We are often asked questions about feltmaking techniques so we thought we would post a "tips" page based on some of those questions and we have also added another tutorial, this time about making basic flat felt.  (To view these, click on the buttons to the right).  Really these are aimed at those who've just started having a go at wet felt making and needle felting and are just some of the things we have learnt along the way.  There is no right or wrong way and you will undoubtedly find your own methods, but we hope what we have learnt will be useful to you.
You don't need expensive equipment and the basics of feltmaking are easy to grasp.  Take a look at the free tutorial and have a go!
We mainly concentrate on wet felt making and then use needle felting as a compliment to this. For example, this penguin was needle felted onto a wet felted antarctic landscape.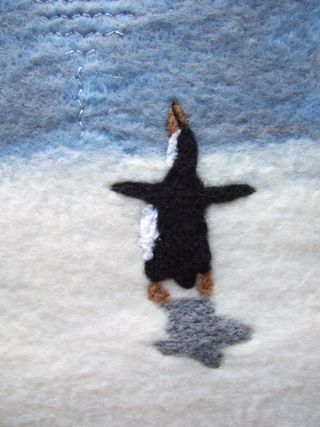 Have a go at creating your own unique felt masterpiece!