Hello! On Saturday I stole back some time for myself and indulged in some creativity - Heaven!  I haven't been able to have much time for feltmaking recently so I really went to town given the opportunity - out came all the boxes of fibre goodness and fluff, and after lots of rummaging around in my stash of wool and wonders (think "child in sweet shop!") my workspace looked like a big colourful explosion in a fibre factory! After sifting through my inspiration box (and playing with the wool for a while, and after a lot of indecisiveness, and revisiting some of my scribbled and sketched ideas), I decided to lay out a picture of some bright felty spring flowers.  I used merino wool, prefelts, yarn and hand dyed scrim.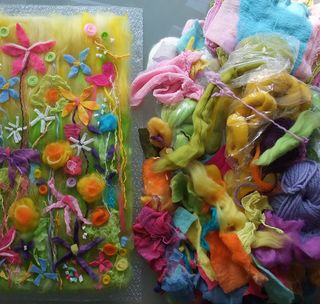 As I haven't made anything in a while, due to work commitments etc, the floodgates opened. Faced with 100s of colours of wool, lots of gorgeous wool yarns and fabrics and silks, it was hard not to go overboard (did I overcook it?) Initially I was just going to make a few little samples to play with but once I got going I thought I might as well make a nice big piece!
It is about 70 cm square before felting.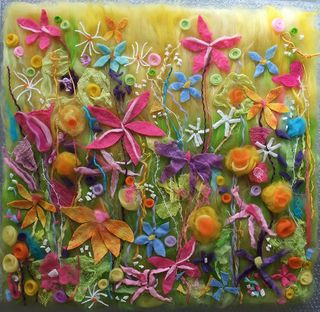 The great thing about felting is that there is no right or wrong way to do it.
How you make felt artwork is up to you - it doesn't have to be hardwearing or a specific size or thickness it just has to look nice. So thick or thin, small or large it doesn't matter - the key is to experiment!  And if something doesn't felt in how you want it to - then you can stitch over it later!

My picture is now sat on my table waiting to be felted.  Then I'm looking forward to getting out the sewing machine, embroidery threads, tapestry wools and yarns, and stitching into it.  I feel like going a little crazy on this one but maybe I should wait and see what it looks like felted first.

Have got an idea for my next piece (and several pieces after that!) but I am going to try to be good and at least felt this one before moving on to the next one!