Hello
Just wanted to share this simple but effective felt picture of flotsam that mum made recently.  She made a fine piece of flat felt from blues and turquoises with scattered torn scrim, nepps, silk noils and silk tops.  For an experiment she used CMC paste (after felting) to give it a 3D effect of gentle waves.  This photo is taken at angle, so hopefully you can see the shape of the waves. 

Here it is in its flat form before the CMC paste was applied.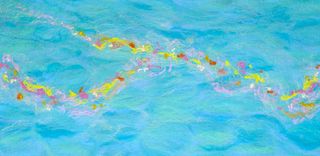 The finished size is 80 cm x 40 cm.  It seems the list of things you can make and do with handmade felt is endless - if only there were more hours in the day to play!