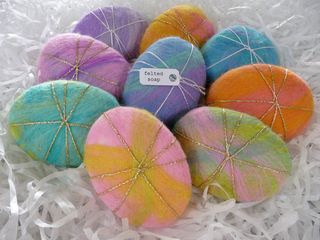 We hope you enjoy using our new free tutorial - why not get together with some friends to have some felting fun?  It's much kinder on the waistline than coffee and cake!
Felted soaps are quick and inexpensive to make and are an easy introduction to felting for children and adults alike.
Wrapped with ribbon or yarn, a felted soap makes a pretty gift that will last much longer than an uncovered bar of soap and the felt shrinks with the soap so that at the end you have a handy scrubby.
Felted pebbles are made in the same way as soaps - they are ornamental and can also be used as paperweights.
If you have a craft stall, felted soaps and pebbles are so pretty that a couple of baskets placed at the front of the table will draw customers' interest. 
The free tutorial can be found in the left-hand sidebar - have fun!