Summer has arrived at last - but before you pack your bucket and spade and head for the coast, please allow us to introduce you to the Pasty Pirate.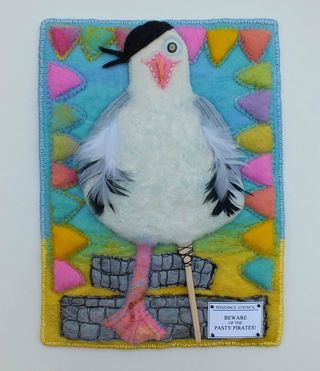 He looks so friendly doesn't he?  All softly felted and smiling.  But he'll swoop down from the sky and pinch a chunk of your Cornish pasty before you can raise it to your mouth.  
But what would the seaside be without the gulls?  We love them! 
Flaming Nora had a great day on Hastings Beach with 14,321 pirates - you can read all about it in her blog entry of 22nd July pirates on the beach
When she's not looting ships and burying treasure, Nora provides bags of scraps for creative purposes.  She encourages recipients to post photos of their endeavours on tales from the scrap heap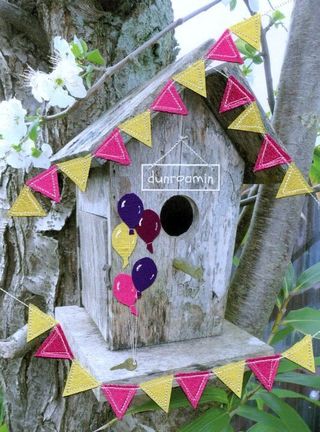 We used some of Nora's silk scraps and a photo of our old bird box, printed off A4 size. The bunting and balloons (with a dab of white acrylic paint for the highlights) are cut from silk scraps then machine stitched in place. The altered image was then copied on a scanner. 
It would make a great image for a house-warming party invitation card.
If you've been inspired by the photo to make some mini-bunting for your house, then Ros has a great tutorial on her blog to show you how. mini-bunting tutorial
We hope you enjoy the great outdoors during the school holidays - now that it's finally stopped raining!