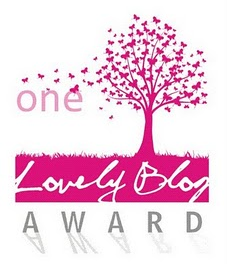 I can't imagine a life without reading for pleasure, so it was a lovely surprise to receive a nomination for the One Lovely Blog Award from Sarah because her blog showcases a book every day of the year.  
In accepting this award I have to write seven things about myself and Annie that other bloggers don't know, so here goes:  Annie always wanted to be called Rosie; she was kicked out of the Brownies for being too naughty and she goes all gooey over dogs.  I would love to try scuba diving but I won't because I think I'd look like a whale in one of those rubber suits; I eat chocolate and sweet stuff but I tell my dentist that I don't; I would rather play with fibres or read a book than do boring housework and we both love to sit on a beach and just watch the sea.
I've also been asked to suggest 15 other interesting blogs that we haven't mentioned before: Lou Tonkin, Geninne's Art Blog, Diana Trout, Poppyprint, a stitch in dye, wooldancer, hens teeth, centering with fiber, Anna Maria Horner, do you mind if i knit, studiofelter, Hooked on Felt, Wool love, Things I've learned lately, Mixed Media
So make a cuppa, get comfy and enjoy a short trip around blogland.  
And while you're on your cyber travels, have a look at The Felting and Fiber Studio Forum. This quarter's challenge is to make a piece of felt depicting the weather where you live.  
So I looked into the garden last week and I could see the changes being made by the coming of the autumn weather - most noticeably the falling leaves from the trees and the falling petals from the flowers. 
The sky was very blue and the dying flowers looked so sad with half their petals on the ground that I thought it would translate well into felt for the challenge.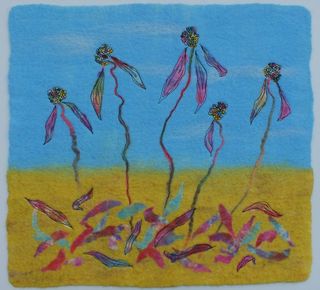 'Autumn in my garden'.  Felt, nuno felt and stitching, 19" x 18"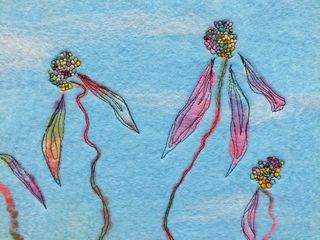 The nuno felted petals were cut from my favourite skirt that had seen its last summer, so it felt right to use the fabric to depict the falling leaves.  
I hope you are all enjoying the fabulous colours that nature gives us with the changing seasons and that it inspires you to be creative in whatever medium you are happy with.