Lyn
To prove that anything can inspire textile art, Annie grabbed the nearest thing to hand - a straggly little leafy plant - and she waggled it right under my nose.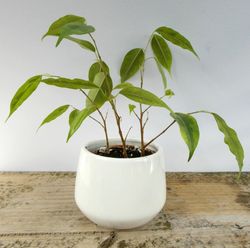 "We'll use this!  We could both make a picture using this as inspiration," a glint appeared in her eye "and perhaps we could make it a challenge.  You know, see whose turns out best?"
The gauntlet was well and truly thrown down ... and I picked it up.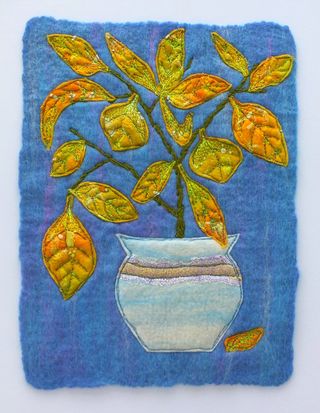 I blended various blues and lilacs to felt a rectangular background (finished size 15" x 11" or 38 x 28cm), then while it was drying I made two more pieces of felt:  I put down some white merino for the pot, then added wisps of blue and a piece of open-weave fabric for decoration; and for the leaves I chose bright canary-yellow, gold-yellow, bright orange and spring green merino wools topped with nepps, silk, dyed scrim and silk noil.
I stitched the pot to the background, then embroidered the stems on with tapestry wool using a running whip-stitch.
I cut out leaf shapes to stitch to the background, then it became obvious that the stems were too thick and proud, so I grabbed a felting needle to stab them a bit flatter.
To finish the picture, I bought an old wooden frame from a charity shop and gave it a lick of bright yellow paint.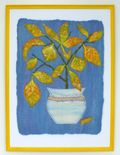 Annie
Mum wins the challenge - she actually made a beautiful picture of the plant, where I appear to have accidentally produced a pot of flowers! Mum chose the title for this post because I abandoned our brief and went and had playtime instead!
What can I say....I'm just soooo easily distracted!  Trouble is that I fiddled around with a million things and ended up with something nothing like the plan, even though it was my idea - sorry mum!  Well it does have a white pot and some leaves so that's not toooo bad for me!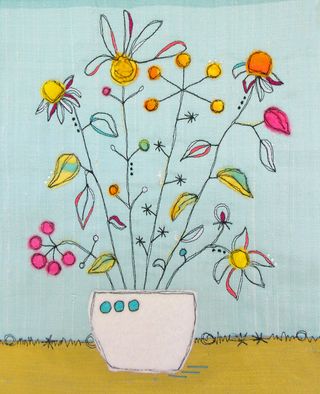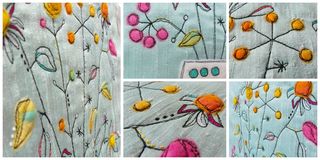 This was the first felt background I made for the picture with the intention of stitching all the bits on afterwards...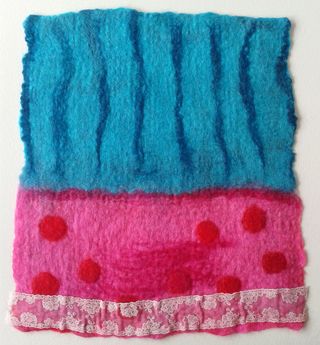 ...til I took the scissors to it to make it squarer, then didn't like it anymore.
Then I painted some cotton rag paper with acrylic paint and discovered I quite like it stitched onto felt...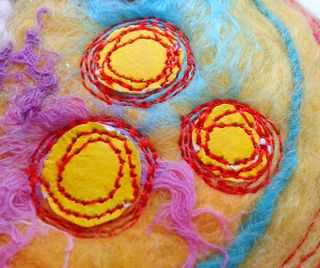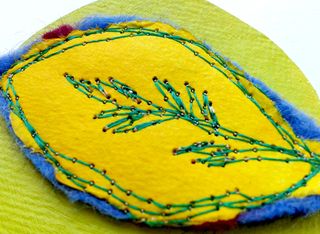 ...but still not what I wanted for this project.
Then I thought I'd go for a 3D version and make leaves and flowers on sticks...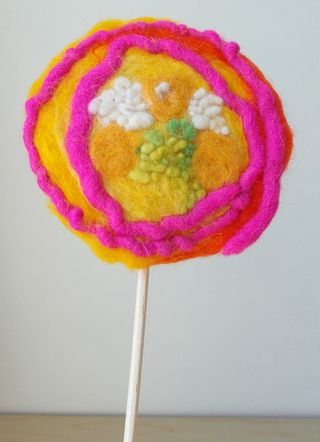 Then I abandoned all that and went back to making a flat picture from silk fabrics for the background, and handmade felt pieces appliqued on with free motion stitching, then decorated further with hand embroidery.
The lovely thing from this challenge is that my Grandma (mum's mum) wants to hang mum's picture on her wall. Takes me back to being a kid and mum pinning my paintings to the hallway wall. Woodchip wallpaper was reasonably forgiving of the pins. 
We had a lot of fun with this, and I'm looking forward to the next challenge!