Lyn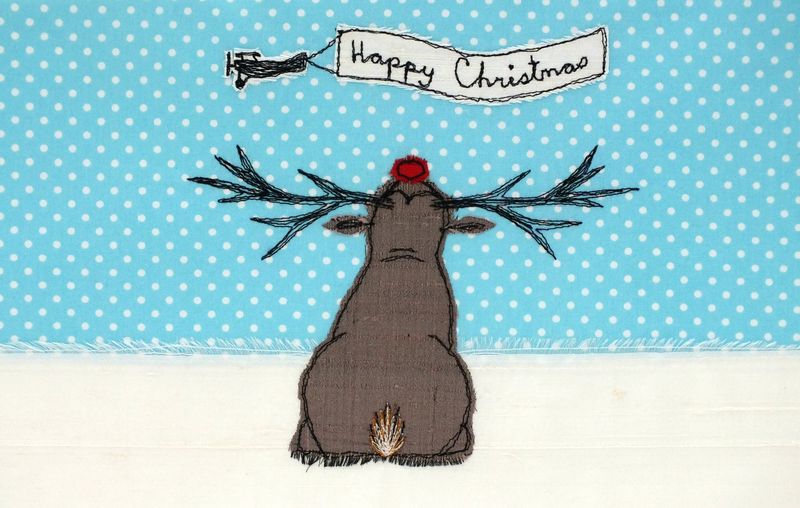 Christmas Card 2014
Only I, in a family of arty people, find drawing challenging, so if I want to draw something I have to find an easy way to do it. 
Every year I make a piece of textile art to photograph so that I can use the image to have printed on my Christmas cards. In my mind's eye I could see the picture that I wanted to stitch for this year's card but when I described it to my husband, he informed me that reindeer don't sit down ... I wasn't going to let that minor detail put me off.
I immediately picked up my pencil to draw the back view of a reindeer sitting down but my waste-paper basket soon overflowed with failed attempts!
I needed inspiration so I decided to look through my old photographs of trips to Longleat in Warminster - I was sure they'd had reindeer there at some time.  I didn't find any, but you know what it's like when you start looking at photos - before you know it you're going from album to album and that's when I saw this old photograph of me with my three dogs. It's very poor quality but it will help me to explain my drawing.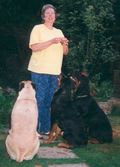 The dog, front left, was my bull mastiff called Candy, and one Christmas we put some felt antlers on her head.  
I'm sure you can see how my thinking was working.  
I printed off the photo above, covered it with a thin piece of paper then traced around Candy's outline.  It didn't look quite right. Too skinny. Reindeer are built a bit like cows aren't they, so I enhanced the outline making the rump much plumper.  The back of the head and upper back didn't look right either, then I realised that in the photo Candy wasn't looking up as were Katie and Holly (the two rottweilers). With tilted heads, their ears were not on top of their heads and their noses were visible in front of their brows, also their upper backs appeared shorter.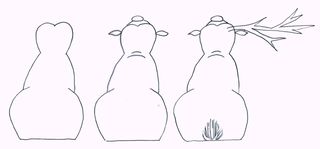 After much pencil scribbling, I'd achieved the basic shape I wanted but it was very messy so I traced it off to a new piece of paper for a clean outline (far left) then I added small ears because I thought they'd look cute and a big nose that I planned to sew in red in the hope that everyone would know it to be Rudolph.
At this point, I feared that my drawing looked a bit like a pig. Aaargh!  But as soon as I drew an antler and added a deer-like tail, I was happy.  Antlers are easy - they're all different so it doesn't matter how you draw them!  I wanted both antlers to look the same so I traced and copied the one I'd drawn.
I made the background for my picture by fixing fabric onto a piece of iron-on interfacing. Some white dupion silk for the snow and a piece of spotty blue cotton for the snowy sky. Using my drawing as a template, I cut the body, ears and nose from dupion silk and stitched them to the background.  I stitched the antlers using black thread (I made stitching guides by tracing around my paper antlers with an air-erasable pen) and the tail was made with black, bronze and white threads. 
To make the banner and plane, I ironed some white silk to a small piece of interfacing then used 'freehand' machine stitching.  I cut them both out and stitched them to the top of the picture. I like the way the silk frays as it's stitched!  
Has anyone else made Christmas cards yet?