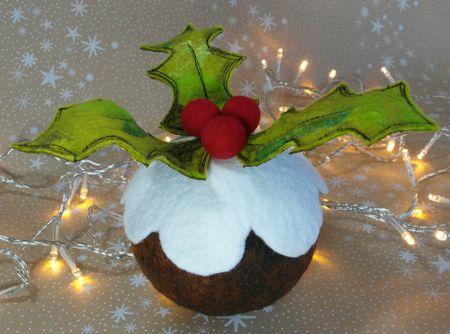 Merry Christmas!
I managed to finish my Christmas Podding project and fill him with my favourite Lindt chocolates...my own private stash :)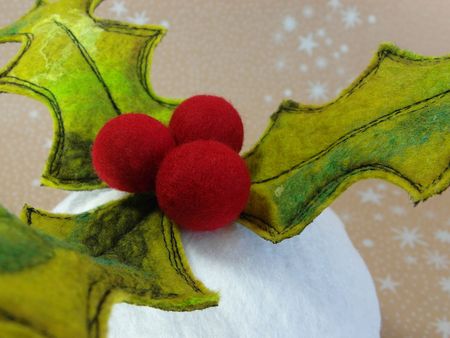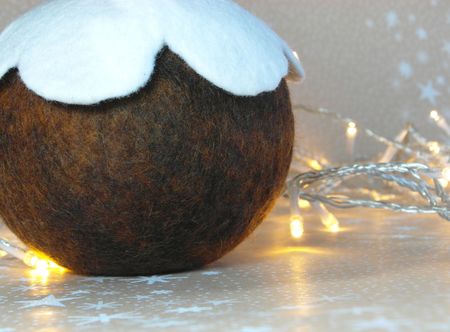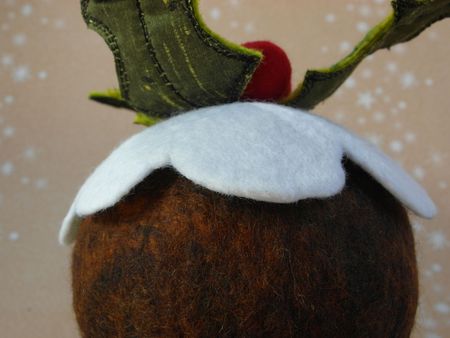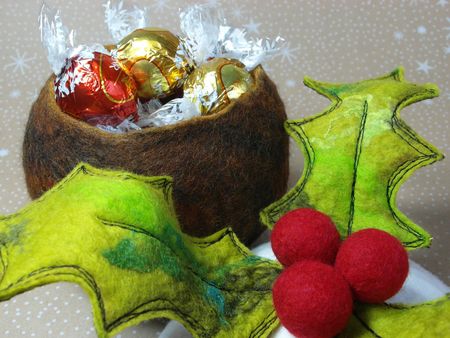 I managed to squeeze 14 in which should just see me through Christmas Day!
Soon as I told mum the Christmas Podding was to hide sweets in her eyes lit up!  So I told her I was going to make the holly extra prickly to make it difficult for her to steal them :) 
So she made her own "easy access" sweetie dish!  Apparently there were a lot more than 3 chocolates but they didn't survive the photo session!
Mum's dish depicts the Grinch who stole Christmas with credit to http://www.dragoart.com/ for the 'how to draw The Grinch face' tutorial.  I love it!
I think my next project should be a badge for mum - "I am the Mum who Stole the Chocolates" !  Believe me, no chocolate is safe if mum is in the room!
A few weeks ago, I found these little samples that I made last year and felt really inspired to crack on with some Christmas projects - I had all sorts of visions of pictures of crazy coloured puddings with oversized holly, felted and painted and stitched...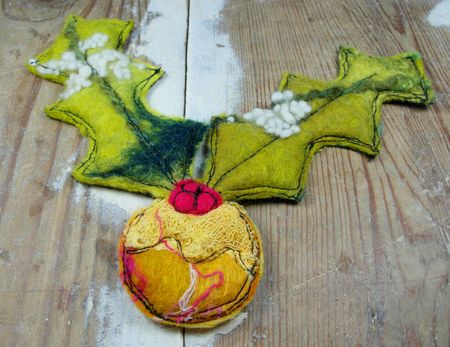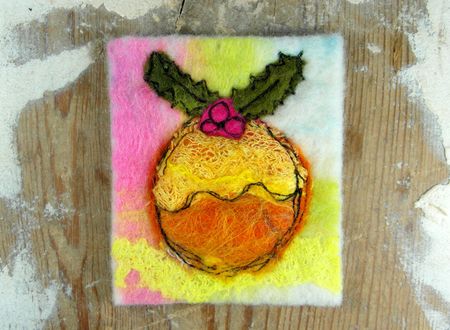 ...And flourescent embroidered baubles and fat robins and....oh well, I think I'd need to start on New Year's Day to get it all done!  But I'm pleased with Podding and I love mum's Grinch dish....and all the chocolates!
We both wish you a very Merry Christmas and A Happy New Year - thank you for supporting us this year by dropping by our blog, we love to be involved in the creative community, it's been fun to read everyone's comments and catch up on all your creative projects too :) x