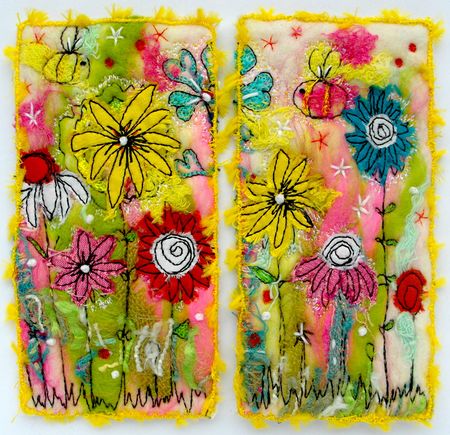 Happy flowers and buzzy bees :)
Card Toppers made from Handmade felt, appliqued silk, free motion stitch and hand embroidery.
Annie
I made the little pictures above for my grandparents birthday cards from one of many little felt samples I've been making recently to try out some of the fabrics and bits and bobs I've been collecting like net, yarns, silk, lace, random shiny things and trims!  

Some things worked well, some didn't but at least I've tried some more things and best I've got another little pile of felty pieces to play with.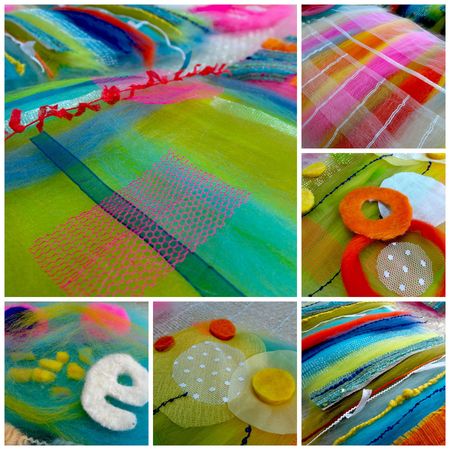 Dry Fibres before being wet felted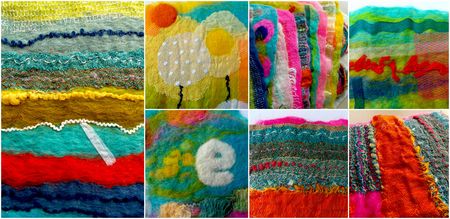 Wet Felted Samples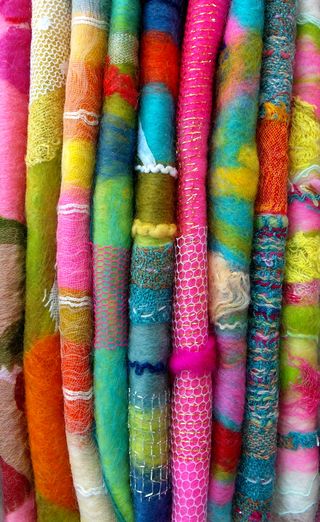 I thought this looked pretty with the felt all piled up :)

The two little flowers pictures were made from the smallest sample (pictured on the far right above).  It was just a little square of white merino with a few wisps of pink and green fibres added that I then scattered some bits of trimmings and scraps on to.  Once it was felted (only softly felted) I stitched a row of my (absolute favourite machine stitching exercise) flowers on.  But they were lost and didn't stand out at all.  So then I cut a few small squares of silk and restitched the flower heads over the silk.  Then I cut away the silk to leave the flower shapes.  It worked really well.  Then because I needed two cards - one for grandma and one for grandad (their birthdays are one day after the other) I thought it would be nice to just cut the one picture down the middle and make their cards as two halves of the same picture.  

Then I added some hand stitching and edged them with some bright yellow trimming and stuck them on to folded handmade paper to make them into cards.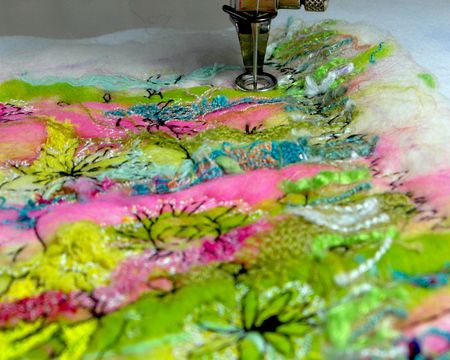 Initial stitching before adding silk.
Details of flowers pictures
I've also had another go at spinning some yarn.  I got all inspired after visiting "Unravel" fibre festival at Farnham Maltings a couple of weeks ago.  It was mainly lots of gorgeous yarn for sale but there was also some feltmaking and lots of demonstrations and exhibitions from guilds.  A lovely lady called Jan from the West Surrey Guild of Spinners, Weavers and Dyers showed me how to get started with the spinning wheel.  I did have a go a few years ago but didn't persevere with it. When I got home I dusted off my carder and grabbed my box of scrap bits of merino fibres (when I'm making something I always end up discarding odds n ends that I just chuck into a box for later).  It was quite good to use this box of bits because it meant I didn't spend ages mulling over colours!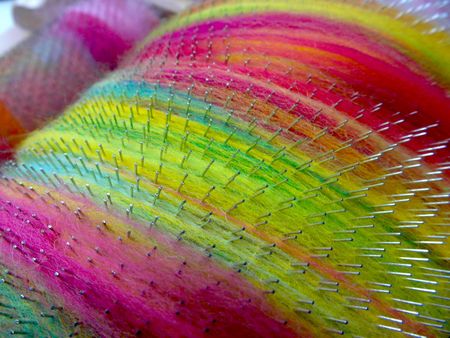 Fibres on the carding machine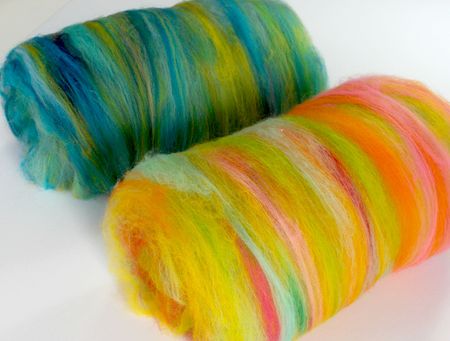 I made 4 batts.  2 of which are above.  Each one is 40g of fibrey goodness (they are approx 22cm long and 40cm round)

Then I had a go at spinning up some yarn from the other two, which I plan to use in feltmaking.  I buy lots of handspun yarn, but how exciting to be able to make my own!

My attempts are not technically good, but then they don't have to be - these are purely for adding texture and colour into handmade felt so they don't have to be strong or perfectly balanced, just pretty and textured :)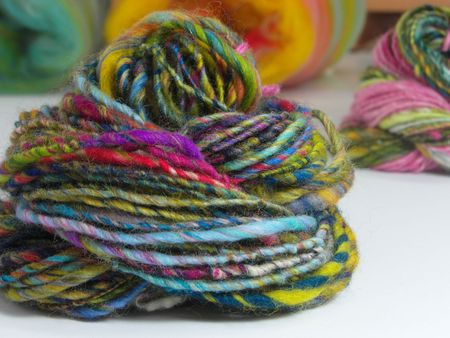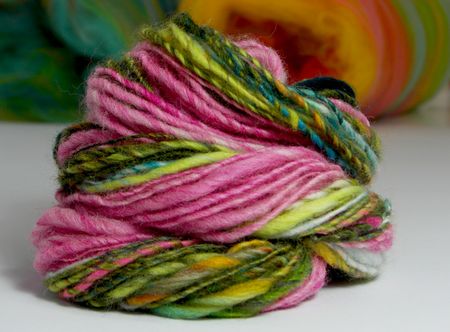 I was quite pleased with the outcome.  Now I want to make more for a little scarf or something once I've mastered joins in the yarns a bit better (then I'll also have to remember how to knit although I've only ever done a little bit of knit & purl, nothing fancy! Praps I'll master some lace with my new found enthusiasm!), as well as hopefully creating some really lumpy bumpy yarn for my felt!