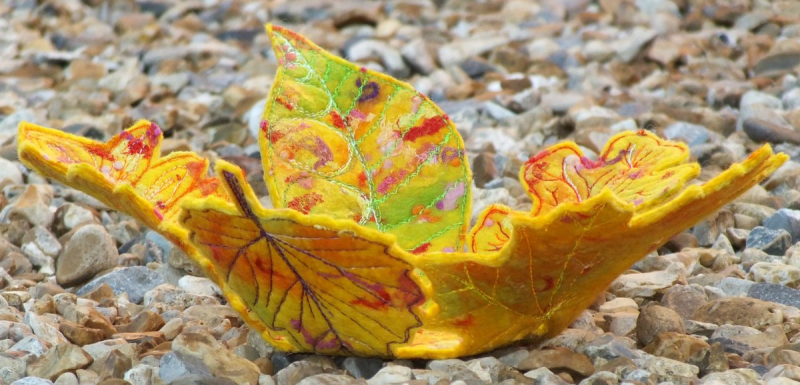 Lyn
Nothing symbolises autumn more than the stunning colours of the leaves on the trees, so those colours were the starting point of my plan for an ornamental bowl.
I chose five different leaves for my project and made a paper template for my design - well, actually I made several templates as I just kept going with the scissors and sellotape until I was happy with the shape.  Then I knew what size to make my piece of felt.  This is the dry layout and I was surprised at how much the little bit of green showed after felting: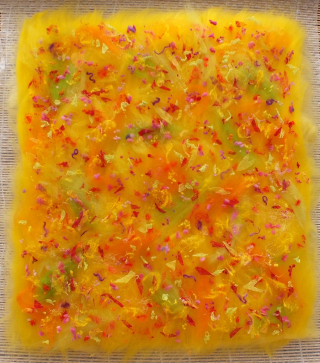 I added a lot of coloured bits of dyed scrim and other open weave materials, nepps, silk noil and scraps of leftover felt, to give the impression of the spotty appearance that leaves often develop just before falling from the tree. The underside of the felt is also patterned.
The felt was fulled to the max so that it had a 'stiffness' even before I added the machine stitching.
The photo below shows the stitching in the centre of the bowl - the circles gave a good rigidity to the base and it was an easy stitch to fit around the leaf stems!
The bowl stands 3" tall and is 12" at its widest (8x30cm).
Before I go, I want to show off my bargain buy from Ikea's clearance bin.  It was labelled as a chopping board - it's a decent size at 17" x 14.5" (43x37cm) - and the ridged underside is just right for the last hard fulling on things like cords and vessels.