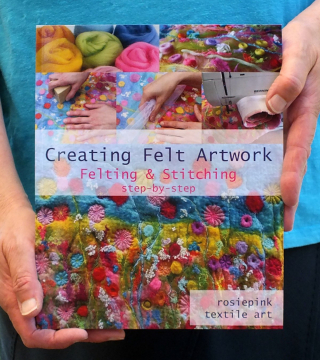 'Creating Felt Artwork' is now available in paperback - yay! We've had lots of requests for this and we have finally now been able to produce a printed version using Amazon's Createspace 'print on demand' service.
Printing it ourselves was just not economically viable so this is great news!
If you'd like to buy a copy, please click below depending on which site you wish to visit. As this is a 'print on demand' book we are unable to have our own stock to sell on our blog and send out, but Createspace do it for us.
UK US
Here are some pics of the inside:

The content is the same as the PDF version (which was updated recently), the only difference is that it is a physical book.
Here are some details, or pop over to our e-book page if you'd prefer a digital download version. You can read some reader feedback here.
***************
Creating Felt Artwork Book Contents:
Introduction
Step 1: Getting Started - Finding inspiration and planning your picture
Step 2: Gathering Equipment and Materials
Step 3: Preparing Your Work Surface
Step 4: Laying Out the Wool Fibres
Step 5: The Felting Process
Step 6: Free Motion Machine Embroidery on Handmade Felt
Step 7: Ways to Hang Felt Artwork
Care of Artwork
Further Techniques:
Inlays - how to make and use them
Adding other fabrics
Needle felting
Decorative holes
More about machine embroidery
Blending colours by hand
Glossary of Common Felt Making Terms
Appendix - Beginner's Felt Making Tutorial

What's different about this felting book?
This isn't like other feltmaking books because we don't talk about the history of felt, the science and all the types of wool available etc, we just go straight to the fun stuff and show you our creative process, the materials we use, and lots of ideas to inspire you.

Do I need a sewing machine?
A sewing machine is not essential to creating felted wall art – you can achieve beautiful results using only hand embroidery - or no embroidery at all if you prefer to just let the felt speak for itself.
***************
We've had so much great feedback about our original e-book version over the years so it's great to be able to offer it in paperback too. To everyone who reads our blog and has supported us so far - thank you! :)
Ps - the link to Amazon is an affiliate link so if you buy a copy via the link we get a small bit of money back for our piggy bank, but if you prefer not to you can simply go directly to Amazon. We think if we're allowed to do it then we might as well as it all helps to keep us doing what we do! After all we're only recommending something we truly believe in! x
rosiepink is a participant in the Amazon EU Associates Programme, an affiliate advertising programme designed to provide a means for sites to earn advertising fees by advertising and linking to Amazon.co.uk/Amazon.com