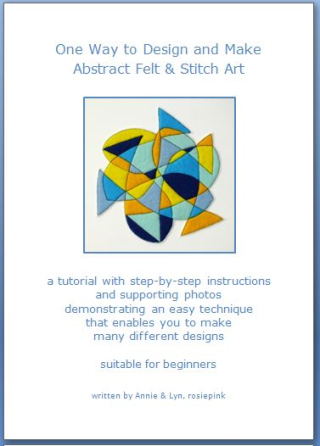 This tutorial demonstrates in depth one very easy technique that will enable you to make many unique pieces of abstract felt and stitch art.
Using this technique you can make your own design with your own colour palette.

You will be guided step-by-step through the design, felting and stitching processes until you have your own piece of art, mounted on a stretched canvas and ready to hang on your wall.

Basic free motion stitching is clearly explained and shown, but a sewing machine is not essential as the stitching can be done by hand.
This tutorial is suitable for beginners.
It is available to purchase, and instantly download, from our Etsy shop for £4.50 (plus applicable tax depending on where you are in the world!)

'One Way to Design and Make Handmade Felt and Stitch Abstract Art' is copyright of rosiepink
© 2018 rosiepink
This material must not be copied, reproduced or resold in any way without the express permission of rosiepink. Thank you.