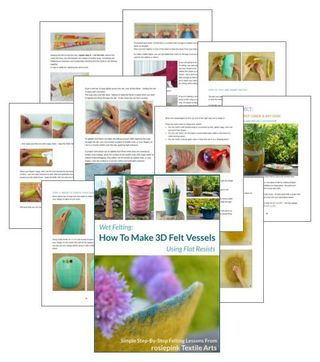 "The e-book is great. The instructions are really clear and well thought out, with helpful photos to support them...".
JW Northumberland, England Read more customer feedback...
'Wet Felting: How to Make 3D Felt Vessels Using Flat Resists' is an eBook (pdf format) written by us, Annie & Lyn, and it's packed with clear explanations and over 200 colour photos. It's suitable for beginners and experienced felt makers alike who want to learn about felting with resists. We hope you will find it an interesting and useful guide on your own felt vessel making journey.
© 2013 rosiepink
There are two simple and secure ways to buy "How to Make 3D Felt Vessels" - click the buttons below to buy it either via Paypal, or from our Etsy shop. It is available to purchase, and instantly download, for £7.99 (approx USD $10.50).
Special Offer! Buy all 3 of our eBooks for £19.99 (saving over 15%) simply click here!
If you live in any EU country (other than the UK), please email us (rosiepink@btinternet.com) to buy this tutorial. To comply with the new vat law, this pdf will have to be sent to you attached to an email.
What is a resist?
A resist is usually cut from a piece of pliable plastic and is placed between layers of wool to prevent the layers from felting together - to resist felting.
Felting with a resist will produce a seamless, hollow shape to make not only vessels such as decorative vases, pots, ornamental pods and bowls, but also items such as cat caves, bird houses, lampshades, bags, purses, mitts, boots, slippers and sleeves for phones, tablets and other devices.
We specifically show you how to make vessels but the methods are easily tailored to any number of other projects.
Is feltmaking an expensive hobby?
No – the basic materials are cheap and readily available, you don't need a lot of equipment and this eBook will get you started quickly and easily.
How do I use this eBook?
In this visual eBook we show how to use three of the most common methods of felt making with a flat resist – with it fully enclosed, one-end open and two-end open. Each step in each tutorial is fully explained enabling you to follow along and make the vessel as shown, or by using your own colours and artistic flair you will be able to make many unique beautiful vessels. For each major process of felt making there is further instruction in the 'Basic Information and Techniques' section.
What's in the eBook?
Clear step-by-step instructions illustrated with colour photos.
We show you how to make vessels using resists but you can easily tailor these methods to make many other items.

Our standard 'Basic Info & Techniques' section will be included with all rosiepink felting pdfs 2013 and onwards. It contains very useful stuff about:
Merino wool tops
Suppliers
How to set up a work area
How to separate a length of wool top and how to pull off a tuft of fibres
How to blend wool
How to place tufts of wool when making a piece of felt
How to make up soapy water
How to net fibres over, wet down, remove excess water, apply soap, rub and lift the net
How to create an organic, fine wavy edge to felt
How to create a defined edge to felt
How to use a bamboo rolling mat
What is fulling and how much will the felt shrink?
How to warm up your felt during fulling; How to make pre-felt
How to make a simple drying rack
The step-by-step projects, each explaining in detail a different resist method, are:
Fully enclosed resist method: Plant pot cover and key dish (with additional project ideas - how to use various shaped resists to make a selection of other items)
One end open resist method: Ornamental Pot (with additional project Spiky Pot - how to add embellishments to the rim of a pot)
Two end open resist method: Simple Felt Sculpture (and how to make a custom template for a specific project)
What's different about this felting eBook?
This isn't like other feltmaking books because we don't talk about the history of felt, the science and all the types of wool available etc, we just go straight to the fun stuff and show you our creative process, the materials we use, and lots of ideas to inspire you.
Do I need a sewing machine?
No - this eBook shows you how to make seamless felted items - no assembly or stitching required.
Note to sellers of handmade goods:
Whatever felt items you make following the instructions in these tutorials you are free to sell.
Purchasing 'How to Make 3D Felt Vessels' is easy and safe. To purchase simply click on the blue button above and you will be taken to a secure Paypal payment page (you do not need a Paypal account to complete your purchase). When you have paid you will be presented with a 'Complete Purchase' button that will take you to the download page. You will also receive your order details and a download link in an email (please check that this doesn't get filtered into your 'spam' folder).
Alternatively you can shop via Etsy using the button above.
You will need a PDF reader to open the file and these are widely available at no cost. Most people will already have one on their computer but if you don't you can download the very popular Adobe PDF Reader here for free.
We are confident that you will love 'How to Make 3D Felt Vessels' but if you are not totally delighted with it please email us at rosiepink@btinternet.com for a fuss-free refund.
We would also like to hear your feedback about our eBook :-)
'Wet Felting: How to Make 3D Felt Vessels Using Flat Resists' is copyright of rosiepink -
© 2013 rosiepink. All rights reserved.
This material must not be copied, reproduced, resold or commercially exploited, without our express written permission. Please respect these terms, we have worked hard on this project! Thank you.