Hi...Can't believe it's been over two months since we wrote!
Have been really busy with work commitments (officey work, not fun fibre work!) and other things, so all of a sudden it's June and we haven't been playing with fibres nearly as much as we'd have liked.  Anyway, hopefully will have more time now and have just recently unburied some woolly, fibrey treasures and dusted off the sewing machine to make a start on some more felt pieces.
Mum has been trying out a carding machine we bought a while back and I think she is finding it somewhat addictive!  Below are some photos of felt pictures she carded some wool for and then did some really beautiful decorative stitching on.  I haven't got photos of the whole things just some details.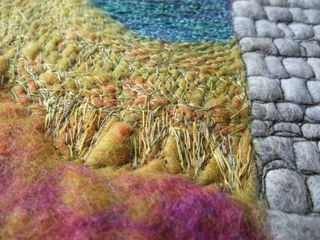 I decided to get some old bits and pieces out of my samples box (where I throw odds and ends of felt scraps and experiments) to get a few ideas and start thinking about some future projects, here they are laid on the desk...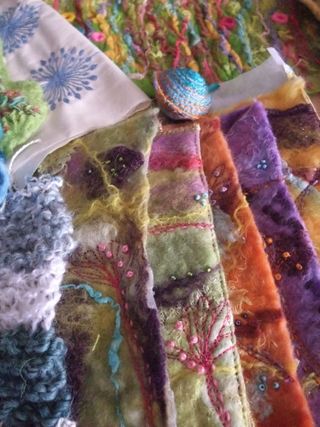 I got all inspired and decided to make a large panel with the greens and pinks and somehow have ended up with blues and yellows.  I haven't got a photo of the new work in progress, as the light has gone for today.  But it just shows that it doesn't matter if I make a plan, as soon as I look in the boxes of colours I am lost to grabbing whatever takes my eye!
I have also been doing a bit of experimenting.  The other day I decided to rework a piece of felt I made a little while ago.  Normally I leave the edges of felt to be natural but I decided to cut this piece up and "finish" the edges.  I rather like the wavy edges and think I will definitely be playing more with this idea!