Forgot to say last time that we are delighted to be the current 'Featured Artist' at Wingham Wool Work !  Go take a peek! 
I made some progress on my Spring Flowers picture by finally getting around to felting it - now I just need to wait for it to dry properly before I attack it with needles and threads and make it come alive!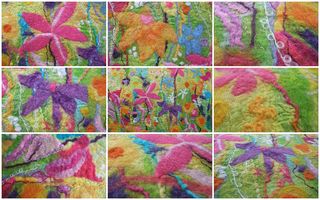 Mum has also been busy and has created this lovely picture of a beached boat: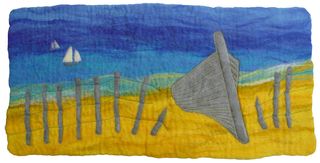 She was inspired after looking through some of our old holiday photos.  The boat hull and fence-post shapes were cut from handmade, grey pre-felt then placed on top of dry fibres that had been laid out for the background of beach, sea and sky before wet felting together. Machine stitching picked out the planking on the boat and made the wire on the fence-posts.
It is 65cm x 31cm.
As you know, mum and I have recently launched our eBook 'Creating Felt Artwork' and we've been so pleased to receive such a lot of positive feedback and sales already.  It has been really popular so far and we are really glad it is being well received after so much hard (but fun) work!
Some of you may already be familiar with a delightful blog Clasheen.  Nicola and Chrissie have also written a book called 'From Felt to Friendship' ...a glimpse into the working lives and inspiration of two totally dedicated felters...  Looks fabulous!