We're loving April with the longer, lighter days - but a few less showers would be good!
And in case you're wondering if we ever got the spring clean done?  Ummm, no, not yet, too many other more important things to do!
We hope you have fun with our two new free tutorials, listed in the left-hand sidebar.  One shows how to make felt beads and simple jewellery and the other shows how to make a simple bag/purse using a resist.
If you're stuck in an artistic rut and need a nudge, how about a challenge?  The Felting and Fiber Studio is a collective of international felt and fiber artists (there's a link in our 'blog list' in the right-hand sidebar) and they have thrown out a challenge to make something in 'abstract representation'.  
As we are often influenced by the sea, abstract representations of a seagull and a windsurfer were submitted for the challenge.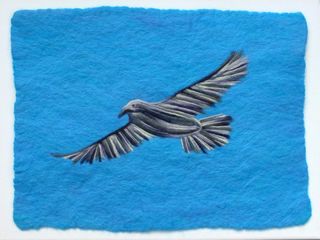 Abstract Representation - Seagull 
The sky is wet-felted with blue merino wool, then the seagull is needle-felted onto it using pure-wool yarn in white, grey, lilac and purple.  His beady eye is just that - a pretty bead!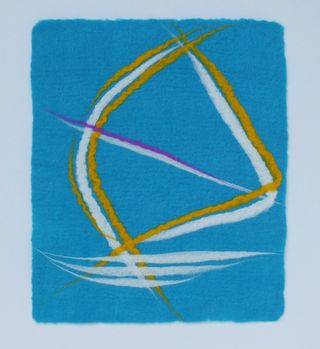 Abstract Representation - Windsurfer
The sea is wet-felted with turquoise merino wool and the windsurfer board and sail are represented by strips of white, yellow and purple merino wool wet-felted into place.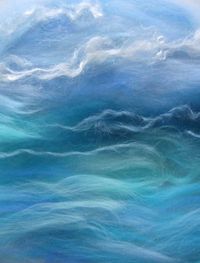 Abstract Representation - Sea and Sky
This image was achieved using just dry fibres - it's a beautiful picture, but impossible to hang on a wall!
It's good to take a challenge - sometimes we need a little push to leave our comfort zones.