Annie


My favourite thing is stitching into handmade felt (by both hand and machine) to give texture and add interest.
But I thought it would be good to try something different for a change - the two samples above (approx 90cms wide) are made using CMC paste (a sort of glue like wallpaper paste). They have dried with that texture with no stitching, and I think it's got quite interesting potential.  It's a bit like silk paper but is made with fine felt instead.  With the right inclusions and colours I think a picture could be complete without any extra embellishment.  These were just quick tests so I am thinking they could do with some stitching or paint or something...itchy fingers!
Have also been trying to keep up with doing regular 5-10 minute machine embroidery sketches - as much as possible of things that are not in my usual subject ranges.  So, some armchairs!  Why not? I think I want to make some bigger pieces based on this and also on my list of things to practice and play with is to start sketching people and dogs.  Something a little bit more ambitious :-)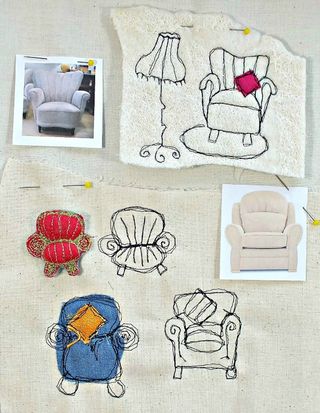 This one is on natural merino combined with natural scrim, and an applique pink fabric cushion.
The chair on the right below is plain stitching on calico and on the left is a 3D version of it stuffed withpolyester filling.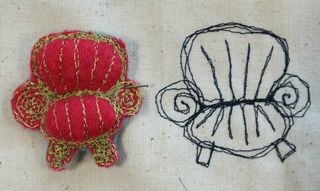 I also did these flowers in free machine embroidery on calico then did a blind lucky dip on the acrylic paint tubes to pick some colours to wash over.  I'm enjoying trying to work quickly - not having to think about things sometimes makes them easier!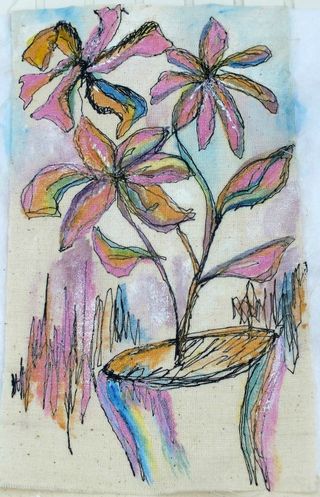 These will sit on my pinboard until they are ready to be used in future references - my poor overburdened pin boards!
One other little project I did this week is make a Christmas card - I don't tend to send Christmas cards - I never get round to it but there are a couple I want to send this year for various reasons.  I made six little pieces of felt to use as card toppers.  This is how the first one turned out.  Who knows if I'll finish the rest.  But at least 1 person will get a card, that's if I remember to post it! :-)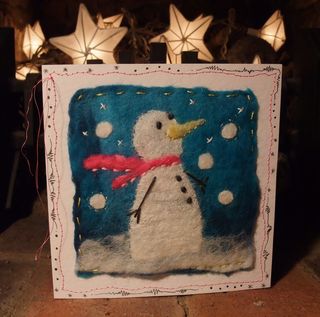 Here's a pic of work in progress - stuff everywhere! You can see my overstuffed pinboards in the background (and that's not all of it!  I'm sure I'm not the only one with too many piles of ideas and materials and not enough productivity.  Some of the yarns, wool and fabric is too nice to use anyway - it just needs to be got out and dribbled over every now and again!)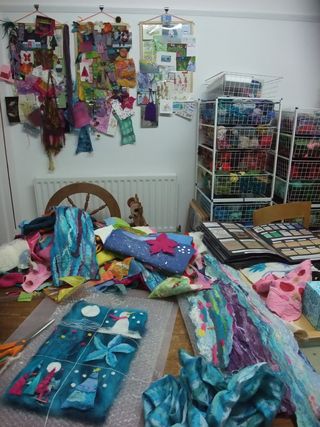 Lastly, thought I'd share this rather pretty photo of the New Forest and winter sun - we've been trying to get out for weekend walks when the weather holds out.  Its flippin cold, but its lovely!