Lyn
Another Christmas and I've overdone the eating and sitting around yet again......but I enjoyed every minute!  
Annie loves to sketch and make notes so she was delighted to receive one of Aileen Clark's pretty notebooks for Christmas.  The front cover is one of Aileen's felted seascapes and inside there are plain and lined pages - ideal for jotting down ideas before they escape.
I'm looking forward to 2013 and my head is full of ideas and plans and I have just the diary to help me to keep track of things.  The cover was made by Zed and it's a pretty patchwork of felt that feels so good to hold in my hand.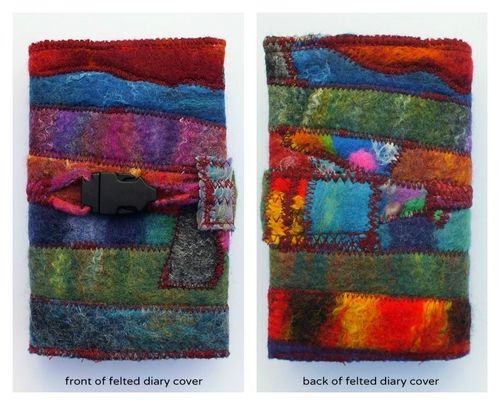 At this time of year Annie and I always look ahead with optimism and we hope that you can too.  Whatever your plans or dreams, work hard on them to make them come true.
Best wishes for 2013 from both of us.