Lyn
We'd all be a lot happier if creativity featured in our daily lives, but do you think your life is far too complicated or busy for that to happen? Ruth Lane shows how easy it is to achieve daily creativity in her post a daily dose of fiber challenge.
I'm using my lovely felt-covered diary, pictured in the last post, as a focusing tool.  Every day I decide what I'd like to achieve and I write it in the diary.  It then sits open on my desk, quietly nagging at me, and encouraging me to focus on my goal instead of faffing around. When my day doesn't go as planned (which is more often than I'd like), I don't panic, I just fit in what I can, even if it's just thinking about my project, then re-assess things the following day.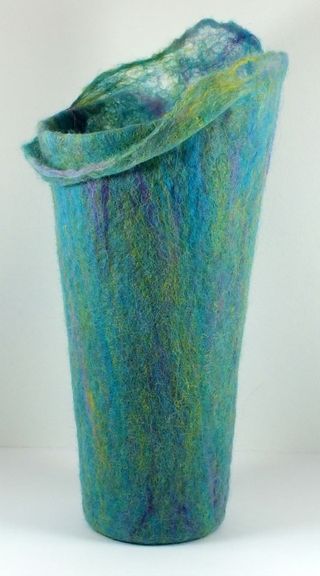 I've always been fascinated by cobweb felt and I wanted to make a vessel solid enough to stand on its own, topped with a delicate cobweb collar.
I blended turquoise, white, blue, lilac, mauve and yellow merino wool, with a little yellow throwsters waste, and wet felted around a top open resist.  It was a bit of a struggle to work with two different kinds of felt, one at each end of the resist, and the cobweb felt tried very hard to snuggle down with the regular felt, but here it is finished and standing 27cm tall.  
I had a little blended wool left over and I couldn't resist making this decorative bowl that measures 18 cms across the top.  It's standing up well, even though it's delicate felt, but if it starts to droop, I'll either wet it and dunk it in a weak solution of CMC paste before putting it upside down over a bowl to set, or I'll firm it up with machine stitching.
So, what are your creative plans for this week and how are you going to make them happen?