Annie
Hi there.  So how often do you take photos for inspiration for your artwork only to never look at them again?!
I seem to do it quite a lot!  I've been looking back through some of my photos this week and realised I've taken many over the years with the thought of making a picture from them 'one day'!  Time to take action!
So I randomly picked a couple of a lady waiting for a fishing boat, with her dog by the shore, and roughly sketched it on the sewing machine without too much thought, just to get it down 'on paper'.
I'm trying to machine sketch as often as possible, although my idea of doing it daily may have been a little over ambitious! But I think this sketch only took about 15 or so minutes including dabbing a bit of acrylic paint on top, so it should be quite easy to fit in!
It felt good to follow up, even if it's just a quick sketch (that photo was taken about 5 years ago!). Have now put some more photos in a dedicated folder on my laptop so I can pick one whenever I feel like it. I really like this image so it's one I'd like to have a go at again, with a little more thought to perhaps make into something for the wall.
I also pulled a few random ideas out of my imagination for a couple of other sketches. I have incorporated our handmade felt, along with a bit of acrylic paint and hand embroidery for variety. I started with this simple image of a heart cut from handmade felt and free machine stitched around it. A man holding it like a kite popped into my head so that's what I stitched!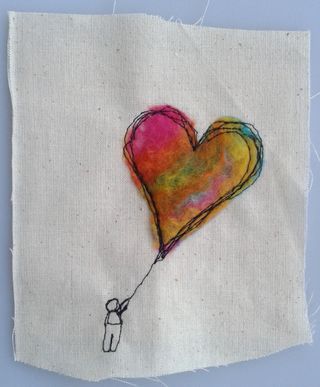 Then a few cheery flowers and a simple funny bird to follow.
I was running quite low on calico so I popped to my local shop to re-stock and discovered some much heavier weight canvas (almost like the stuff stretched canvases are made from) in both cream and in white. It seems to take the stitching really well and the white makes a change from the usual cream colour. The bottom 2 pieces are on the thicker canvas.
I think this will be good as I am currently experimenting with different ways to display small textiles works - has anyone had any success with mounting textile work on wood blocks? I really like the way that it looks when people paint wood blocks and the edge of the work is flush with the block. The only simple way that springs to mind is glue - but glue isn't good for textiles is it?!

I've got several ideas such as lashing the felt / fabric round the block with threads or drilling holes in the block to stitch through. Will have to have a think and a play. Small textile work can get a bit a lost on a wall - and I don't really like framing felt and textiles work - I like it just to sit as it is.

As for the big flowers picture I laid out recently - well I felted it, started to stitch it and then decided I didn't like it!  So I'm going to take the scissors to it and make a few smaller pieces from it. I haven't quite worked out which bits to chop yet but I'm playing with an old
mount (cut at each end so it's adjustable in your hands) to try and pick bits out. Small pieces of it look quite pretty and will transform into a new theme when cropped and stitched - maybe the seashore or a harbour. Or just a couple of small flowers. They could be used for small pieces for the wall, or for cards or tiny colourful pieces for brooches. That's the great thing about felt, it's never wasted, it can easily be chopped and re-used!
Here are some of the bits I'm thinking of cropping out...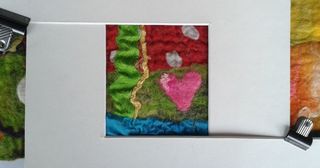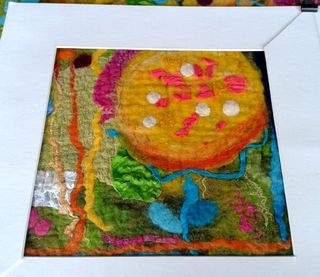 My other project for this weekend has been a bit of a chore though - painting my work table.  A few weeks ago I finally bought a giant bit of MDF and attached some Ikea legs to make a table and I've been using it unfinished but it keeps getting wet and MDF doesn't like water! So to seal it I've been painting it. So far have done 3 layers of emulsion to prime it. Then a layer of gloss. But I've got to do one more layer cos I came down this morning to discover it had gone all patchy. Argh! Yuck - I hate glossing! But hopefully it will be worth it when I have a nice big waterproof table to work on :-)