Lyn
When a room becomes jaded, it needs decorating.....or does it?
I've realised that I can delay the dreaded decorating by having a quick re-arrange of some of the furniture and introducing new pretty things!  Then the room has a new, albeit temporary, lease of life.
So instead of fiddling with sandpaper and dust-sheets, I've been felting some vessels to brighten up niches and shelves.
This cobweb pot gave me a headache.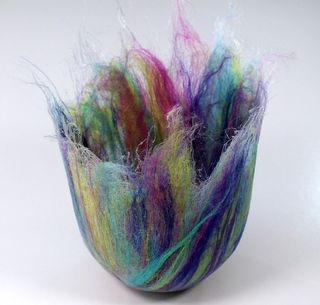 I draped some hand blended merino fibres over a large upturned vase and felted them much as you would felt over a soap.
The cobweb felt was very thin so I decided to rub some CMC paste into the fibres while they were wet and sitting on the mould of the upturned glass vase. Then I set the whole thing aside to dry.
I figured that when the felt was dry it would just slide off the glass.
How wrong can you be?  
It was stuck fast!
With the aid of filleting knife and a fistful of pennies for the swear-box, I eventually parted the felt from the glass.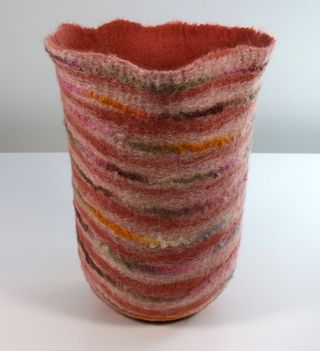 This terracotta pot looks great on my white shelf on a white wall.  
It stands 20cm tall and is decorated with yarn felted in. 
I made it over a resist and shaped it using my hands and some balled-up bubble wrap.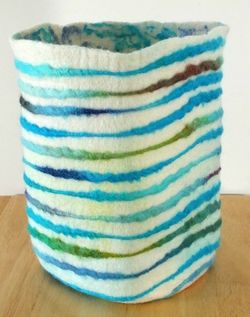 I just love using yarn to decorate pots!
I like the white merino background because it shows off the pretty variegated wool - but the dye bled from the yarn into the white in places.  However, I think it just adds to the charm and I'll tell everyone that it's a design feature.
I made this one on a resist but fulled it over a square sweetie jar.
The inside top edge has silk noil detail.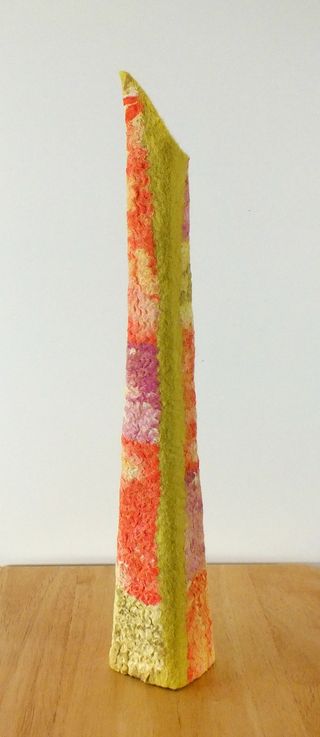 This sculptural piece is hiding a damaged vase and it stands 39cm tall.
I made the vessel on a resist then moulded it on the vase during fulling.  I was able to make the felt lightweight because the vase is inside and serves as a weight.
The merino wool is a lime/lemon colour and I nuno felted some fabric onto it.  I love the texture of the fabric now that the wool has drawn it up.
Ah well, I can't hang around chatting too long - I need to make some more stuff to brighten up another room before anyone notices that it too needs decorating!