Annie and Lyn
Hello!  We're enjoying the (late) arrival of summer, and moaning about the heat, in equal measures!  We've been to the beach, we've been swimming in the sea (once you're in past the waist it's fine!), but we've also been working hard, honest :-) 
We're pleased to celebrate the launch of our new ebook, 'Wet Felting: How To Make 3D Felt Vessels Using Flat Resists', by giving away 3 copies of it here on the blog.
Everyone that leaves a comment at the end of this post will have a chance to win a copy and the draw will take place at midday next Weds (24th July).  Good luck!  Of course if you buy a copy then win, we'll happily refund you ;-)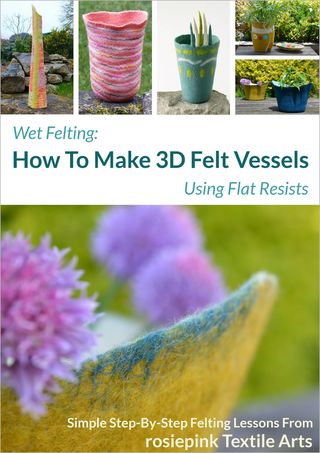 The 120 page ebook is an instant download (pdf format) and is suitable for complete beginners, and more experienced felt makers, who'd like to try felting with a resist.  We've included a substantial section, illustrated with colour photos, demonstrating basic techniques so that nothing is left to guesswork for the reader.
The basic information and techniques section covers: Merino wool tops; Suppliers; How to set up a work area; How to separate a length of wool top and how to pull off a tuft of fibres; How to blend wool; How to place tufts of wool when making a piece of felt; How to make up soapy water; How to net fibres over, wet down, remove excess water, apply soap, rub and lift the net; How to create an organic, fine wavy edge to felt; How to create a defined edge to felt; How to use a bamboo rolling mat; What is fulling and how much will the felt shrink?; How to warm up your felt during fulling; How to make pre-felt; How to make a simple drying rack.
We show how to use a fully enclosed resist, a one end open resist and a two end open resist and we explain the advantages of each method.  For each method there is a full tutorial showing how to make a vessel (they are pictured on the cover image shown above).
You can follow the tutorials exactly to make a vessel, or by using your own colours and artistic flair you will be able to make many unique, beautiful vessels.
If you make and sell your felt goods, you are free to sell any items you make following the tutorials in this ebook - even if they are exactly the same as those we made.
Good luck in the draw!
Most people reading this post will be interested in making all sorts of things, so we'd like to let you know about another draw taking place this week.  Have a look at The Felting and Fiber Studio Blog where Zed is offering a giveaway of her new ebook 'Polymer Clay Simply Made'.