Annie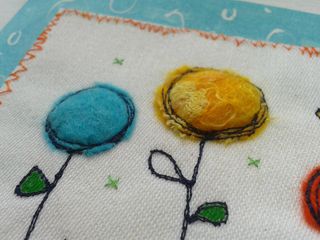 I've found I've really started to enjoy making greeting cards again. It's something I used to do a lot mainly with just papercraft, but have rediscovered handmade cards again using handmade felt, stitch and acrylic paint.

During busy times I've found it a great way to actually finish a project and feel a sense of achievement, even if it's tiny! It's also a quick and easy way to experiment which (usually) ends in a useful and well received end product.

Another benefit is that I also save myself £3.00 a time on buying a cardboard card from the high street and give myself a short while to indulge myself in creating a mini piece of art. It's also low risk because it's on such a small scale it allows you to try different colour palettes and techniques without waste. Win win win!

Thought I'd share a few I've done over the last month or so - it's been a hectic (but lovely) month - have been visiting family in Wales, Kent and Norfolk over 3 weekends, had house guests, and have just come back from a camping weekend in Somerset (a very pretty part of the world - shame it rained for most of it!). Making these small projects has kept me creating when I might not have done because starting a bigger project needs more dedication and is not portable!

The first is a little picture of flowers made for my Nanny-In-Law. We went to her 90th birthday party in Kent and had a lovely time.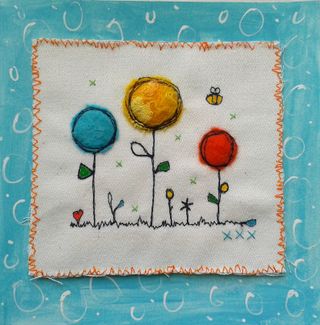 I stitched the flowers first in free motion embroidery (on to heavy weight canvas / cotton calico backed with stabiliser) trapping blue, yellow and orange scraps of handmade felt in the circles of the flower heads. Then I painted the leaves and bumblebee with acrylic paint and added some little hand stitched details. I bordered it with free motion "zig zag" (back and forward running stitch!).
I painted the card with a wash of acrylic paint.  The bubbles pattern is made of white ink scratched on with a wooden skewer. So it's really low tech but I think it looks nice!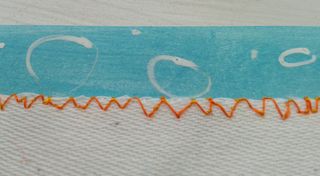 This is the birthday card I made for Mum (Happy belated birthday Mum!) It's made in the same way as the blue card but with french knots added for a bit of texture.  Mum loves green and all things garden and flowers.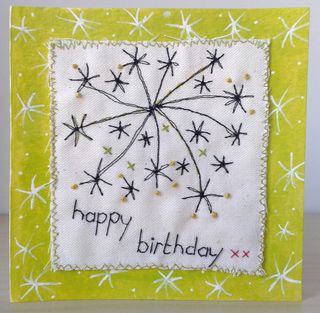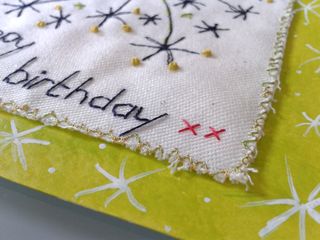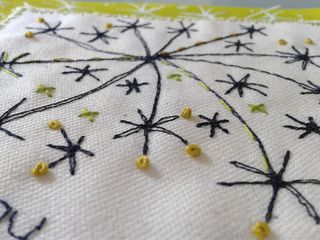 I've been taking lots of flower photos recently - a huge patch of meadow flowers sprang up by the main road in Christchurch so I took my new camera up there to try to learn to use it. The photos were mostly under or over exposed (it's a digital SLR so it's going to take a bit of practice!) but I still got some nice pics with varying interesting effects. I liked this one, which inspired mum's birthday card above :)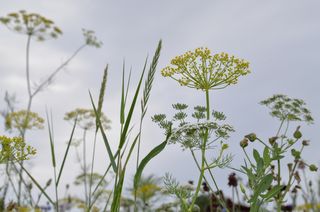 I also took this one which appealed to my sense of messy riots of colour.  Which gave me the idea for the card below.  Always torn between messy and neat!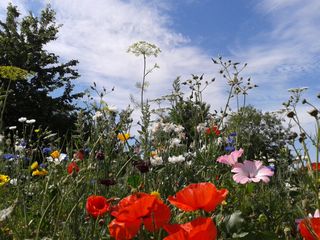 This card is a thank you card for Dee, my sister-in-law, mainly for the lovely gifts she bought for us (including introducing me to Liz Earle face creams for sensitive skin - it's made a huge difference in just 10 days!) and also for (and I'm slightly ashamed of this one) cleaning my oven for me while she stayed with us for a week!.... but secretly I'm thrilled of course! ;-)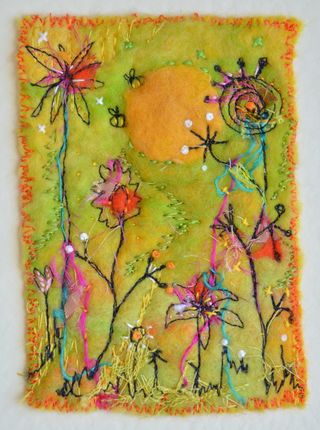 I used a small piece of my failed Flowers Pic to make something new and fresh and bright which is always pleasing! Nothing goes to waste in feltmaking.

This was a bit of an experiment though. There was a pile of pretty tiny little scraps of fabric in lovely colours on my work desk so I scattered them on to the felt then I free motion machine stitched the dark outline of the flowers on top - this was quite tricky because the foot kept trying to push them off (I had to lift and lower the foot several times to trap the fabric). I found it harder to be spontaneous in the stitching while trying to keep the scraps on the felt, but the varied and random colours in the fabric added a bit of spontaneity back in so that was good!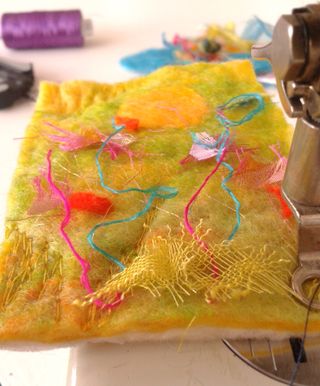 I added some hand embroidery then edged the piece of felt in the same way as the other two cards.

All of the card toppers are simply attached with double sided sticky tape. You could stitch them on (and if it was for permanent artwork I probably would have done).

When Dee stayed we visited Athelhampton House - famous for it's gardens. It was beautiful and between us we took about 400 photos and did lots of ooh'ing and ahh'ing. We may also have had a cream tea ;-)

Here are a couple of the photos - I especially love the yellow and lilac in the first one. Nature is so clever!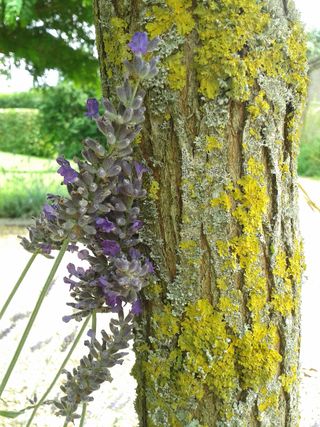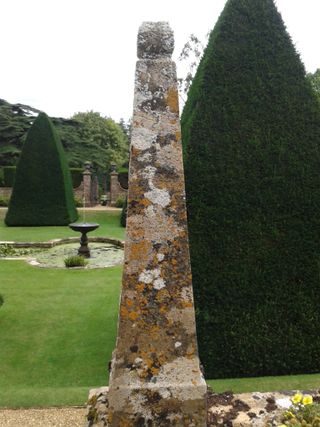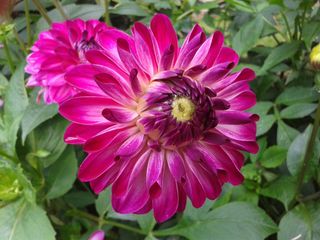 A lot of the flowers had gone to seed by this time of year but that just made it even more interesting!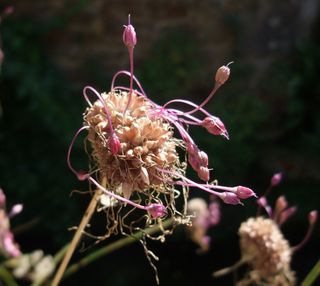 If you ever find yourself near Dorchester, it's well worth a visit http://www.athelhampton.co.uk/