Zed has written a wonderful ebook and we wanted to share it with you because it's easy to see how Polymer Clay could be used to add a new dimension to felt making, knitting, crochet, sewing, jewellery making, paper crafting etc.    
Right from the first page we were impressed by the clarity of the images and by Zed's easy to read prose.  All instructions are clearly explained, and with over 200 high quality colour photos, this ebook is a fail-proof, visual guide that would be perfect for even a complete beginner. 
Zed has developed her own very simple method for producing smooth, even clay and shows how to adapt it to lots of different techniques to create beautiful unique polymer clay pieces such as brooches, pendants, buttons or tiles for mosaic, without the need for any specialist equipment or expensive gadgets - the 'tools' that Zed uses are everyday items that most of us have around the house.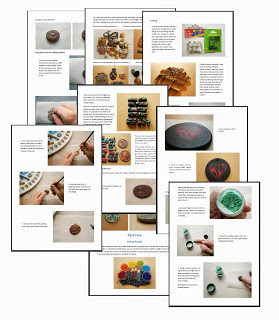 Zed demonstrates many techniques, including how to: use commonly available products for applying colour to the surface of clay; use beads and metal as embellishments; create a fake porcelain look; inlay; and apply acrylic paint for an aged look.  
Every technique is achievable by anyone.  For example: when Zed implants glass hex beads, with precision, into a piece of polymer clay, she shows that you don't need the steady hands of a brain surgeon - just a nifty little trick with an ordinary sewing needle.
There's also a lovely gallery of polymer clay examples that will inspire you to design and create your own unique items.  
This ebook is great value and it's available as an instant download from Zed's blog, FELT by ZED or from Etsy, ZED'S ETSY SHOP