Lyn
I love the colours of autumn and I like to look up through tree canopies to see red, plum, gold and green leaves against a clear blue sky - I think the most spectacular displays come from maple trees.
When the leaves start to fall, my garden gets a thick dusting of oak leaves from an old, enormous tree in a neighbour's garden, so the oak leaf just had to be my inspiration for this ornamental bowl.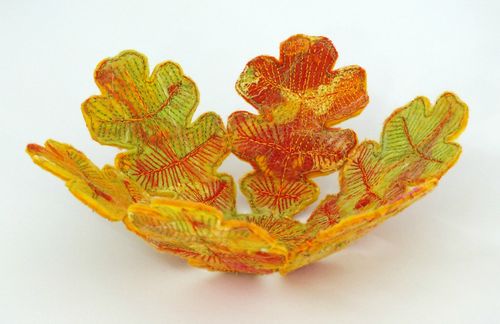 I stitched the bowl from a piece of handmade felt made with merino wool in 'autumn colours'...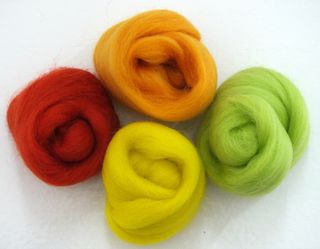 ...and a few scraps of dyed scrim and nepps for decoration (the felt was patterned on both sides). The bowl is 2" tall and 7" across.
One piece of autumn coloured felt isn't enough, so I made a pod using the same colours of merino wool.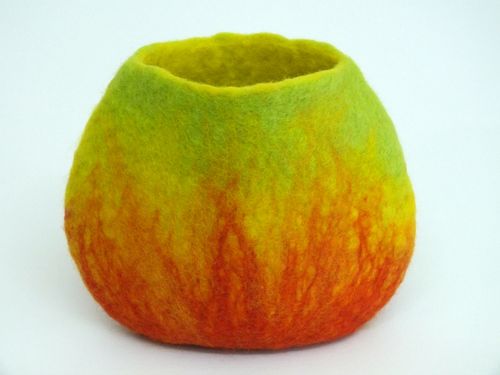 It's 4.5" tall and it's a simple variation to the felt pod tutorial that you can find in the left-hand sidebar of this blog.
The first two layers are made with yellow merino wool to give a bright, pretty inside.
This is the third layer of fibres (to both sides):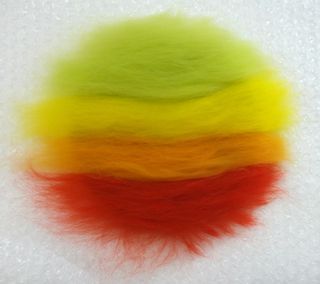 And this is the final layer of fibres (to both sides):
The hole was cut from the top edge of the resist, through the green wool, and the felt was worked so that the final shape has a narrow oval bottom and a wide, almost round top.
I think mother nature should have the last word in this post - I went out into the garden just now and saw these colourful blueberry bush leaves.  Beautiful!