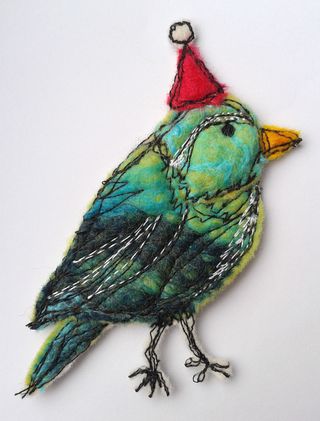 "We are not amused with the hat..." :-)
Annie
So about 5 minutes ago (actually mid-September, but it feels like 5 minutes ago!) I was laying on a beach in Crete.  I checked my phone to find I had had my first C-word email from a well known high street chain.  "Back off Christmas" I thought - you're not for ages yet!
5 minutes later and it's Christmas in 1 week.  How did that happen?
I get caught out every year by things that happen every year!
Anyone else feel like time is on fast forward ?!
A little while ago I was given some wooden pallets by a neighbour. Immediately I had a million ideas of things to make - herb box for the garden, picture frames etc.  I also thought a Merry Christmas sign would be nice and sort of rustic with felt and the wood.  However, because of my late start on Christmas, this is as far I have got!  7 letters short.  So "Merry Ch" to one and all!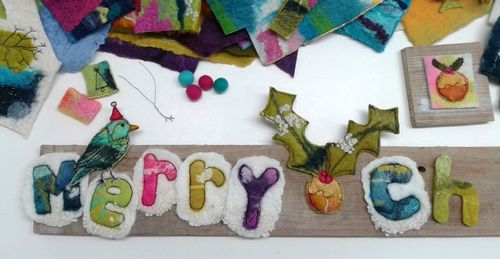 I will attempt to finish it before Christmas (note I didn't commit to which Christmas!).  
I hope your Christmas projects are taking shape better than mine :-) 
I don't often make New Year Resolutions but this year I simply have to at least make a proper effort at getting organised. Too many things are going not done or not finished (how many UFOs do you have?!) Or maybe it's a case of prioritising so at least you work on something everyday that takes you closer to where you want to be.  So when another year goes by you can recognise what you have done, rather than think "where did that year go?"!
To assist in this idea I recently read "18 minutes: Find your focus, master distraction, and get the right things done" by Pete Bergman. Big text, really simple to read with several "a-ha" moments and lots to take away e.g. you can't do everything (despite what most magazines will tell you!) so focus on the things you really want to achieve.  I would highly recommend it to anyone who often gets to the end of the day and wonders where it went without having done the things they thought they would do!
So no resolutions for next year just an attempt to focus a bit more (every day) on some longer term goals, without giving in to every distraction and shiny thing!  Obviously, if a picture of Daniel Craig or Brad Pitt looking particularly gorgeous happen into my feed they will of course get priority :-)
I have however, been remembering to machine sketch - just 10-15 minutes here and there. Just sit and stitch, no planning or faffing!  Not managed every day but something is better than nothing.  I sketched these imaginary birds last week, after thumbing through a pretty little Bird Spotting book that I was given. The colour is a splash of acrylic paint and it's stitched on a scrap of old white felt. I know birds have been done an awful lot, but they do have endless possibilities!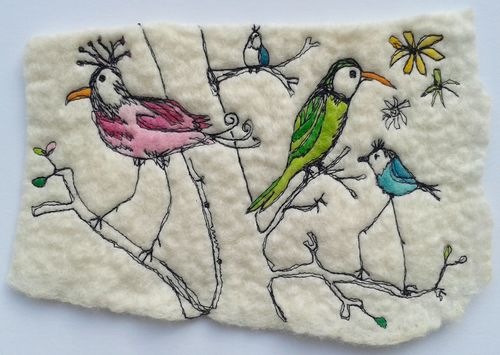 Someone who is the complete opposite of me in terms of Getting Things Done is my lovely mumsy.  On top of everything else she is even making placemats for the Christmas table. And of course, cooking the Christmas lunch next week!
Lyn
Don't worry Annie, I saw Grandma 'feeding' her Christmas cake yesterday - it looks scrummy and I'm sure there will be enough to go round!
The Christmas dining table just has to look good doesn't it?  But I don't favour the perfect look that is shown in glossy magazines - it's expensive and definitely not fun.  
And let's get real, there is going to be red wine, gravy and bits of greasy food all over it by the end of the day, so I prefer a quick homespun table that guests can enjoy and not worry about.  Young and old can join in with making table decorations too - nothing has to match or be perfect - indeed a mishmash is preferable!
This placemat was very quick to make and a different one for each guest would be fun.
It's just a piece of cobwebby felt on scrim from my stash, backed with iron-on stabliser to make stitching easy and to give rigidity to the mat.  The free-motion stitching was done with black thread and the stars are hand stitched with pale gold perle cotton.  A scrap of white dupion silk was roughly appliqued on to make the snowpeople and the colours were added with ordinary felt tipped pens.  
And a quick coaster.



Have some creative fun in the run up to Christmas - it's an effective stress reliever!