Annie
So in case you hadn't noticed by now, just to clarify the definition of "Tomorrow" in my dictionary = "Loose term for some time in the next week(s) or so!".  Just ask mum :-)
Anyway, here are bits of my last couple of days "sketchbook", including a quick free motion sketch of Mr Squidgle.  He's rather out of proportion but he'll do!  I think that's why I like to doodle flowers and things pulled straight from my imagination, cos there is nothing to compare them to, they just are what they are :-)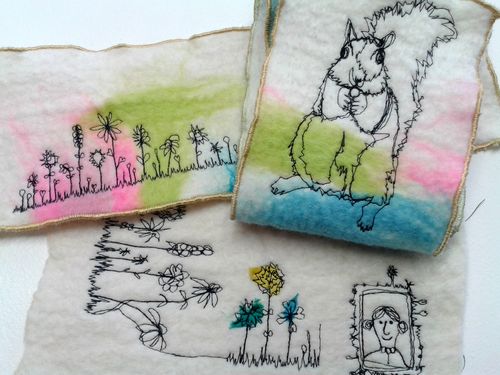 I decided to have another go at Squidgle Pants but this time take him a bit further. I cut some shapes out of some textured handmade felt and pieced him together, same as for the snail's shell in the last post, to give him a bit of felty texture and colour.
(Sorry about the poor quality photos I just took a few snaps on my phone and it seems the light was a bit rubbish. Doh!)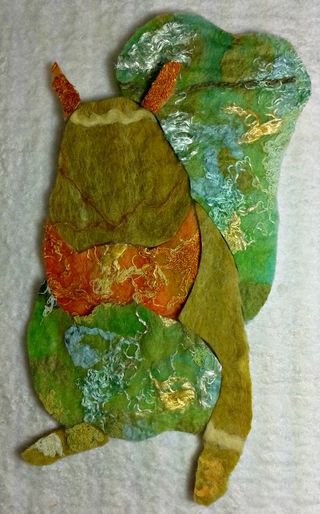 I thought I was being really clever by "tacking" the pieces in place with the machine. Turns out it doesn't really work - the darning foot was determined to shoot underneath each and every piece, the pieces all still moved about, and worse still because the pieces are only loosely felted they disintegrated around the edge as I was sewing. Apart from that - easy! Argh.
So here he is so far, still in progress. Had to give up before I wanted to - my back is not happy with me at the moment.  Have gone and got a sprain in my lower back (don't even know how I did it!) but it's painful to sit for too long (although I have discovered that perching on a gym ball is rather more comfortable than a chair - and if you don't sit up straight, you fall off!)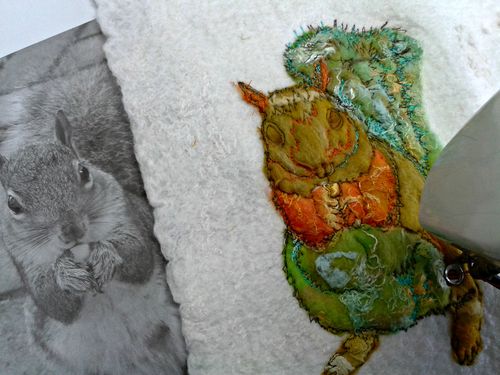 Oh, one last - unflattering - photo (from the feet up is never a good look is it girls!?) but I thought it showed the texture of the felt a bit.  Trouble is I will have to remember to stop before I completely flatten him with stitches.  I do get a bit carried away!