Lyn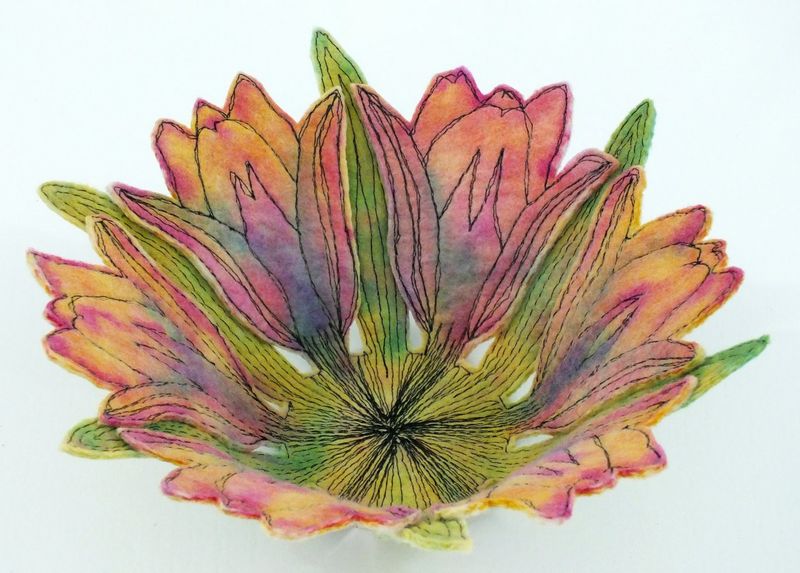 I love colour, but when I sketched out an idea for a tulip bowl, I thought it would look rather good in black and white.
So I made a large piece of plain white felt with merino wool, then threaded up the sewing machine with black thread.
I spent an entire day sewing then unpicking, re-sewing then unpicking again ... and when the daylight faded so did my enthusiasm for the project.  
After a few days of ignoring my sewing table, I fortified myself with a mug of tea and biscuits then I picked up the white felt again and threaded the sewing machine with brightly coloured thread.  I spent several hours sewing then unpicking, re-sewing then unpicking again ... it's a good thing that handmade felt is forgiving if you unpick stitches from it carefully.
When you've invested a lot of time in something it's hard to give up - the sensible side of your brain is telling you to stop wasting your time but the optimistic/creative/daft side urges you on. 
So I went back to plan A and stitched some tulips and leaves in black thread on the white felt. It was very late in the evening when I'd finished.  I put it on the sewing table, stood back, tilted my head from side to side to look at it properly and ... I didn't like it.  At that point I should have gone to bed.  But the daft side of my brain wouldn't let me.  Dye the felt it suggested.  What now?  Yes, now.
I found some empty jam-jars, some half-used packets of 'Dylon' powder dye and I covered the kitchen counters in newspaper.  I tied my pinny on and mentally rolled up my sleeves.
I only had dark purple, bright pink, deep gold and turquoise dyes, but after a few false starts I managed to mix a green I liked by combining the right amounts of gold and turquoise.  I raided my husband's art cupboard to borrow some paint brushes (sorry about the permanent colour change to the bristles darlin') and dobbed/dripped the dye into the white felt.  
At half past midnight I could see that I'd made a right mess of it.  I picked it up and carried it over to the pedal bin.  I put my foot on the pedal and heard the familiar clang as the lid of the bin hit the radiator behind it.  The sharp noise in the quiet of the night brought the daft side of my brain back to attention.  I couldn't stop now could I?
I dropped the felt into the kitchen sink and managed to remove a lot of the dye with warm soapy water until it became a very pale version of its former self.  I rinsed it then rolled out as much water as I could.  I applied the dyes again. I didn't have anything to lose and I was tired so I was quite 'free' with the application of the colours.
When I'd finished I felt a wave of surprise, delight and relief artistic pleasure with the result. 
The felt was quite wet and I was concerned that the dye might 'migrate' further and turn some areas 'muddy', so to dry it quickly, I put it in a warm fan oven (with the door left open) for half an hour while I cleared the mess away.  I kept checking it every 5 minutes because I didn't want it to turn golden brown!
The tulip bowl stands 7cm tall and is 24cm at its widest (2.75" x 9.5") and I'm glad that I didn't give up on it.  
How long do you keep going on a project when it seems to be falling apart?