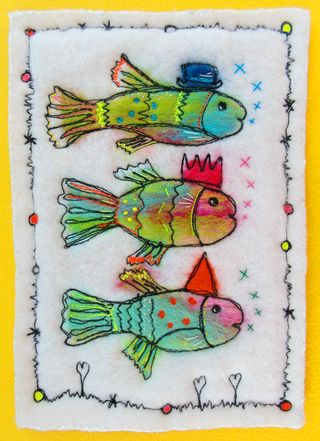 Where's the party?!
Annie
It was my Dad's birthday last Friday so another good excuse to make a felty stitchy handmade card.  He's always loved the sea and visiting harbours and used to enjoy a spot of fishing.
I love the look of watercolour and ink and have had a dabble with watercolours in the past but thought it would be fun to try to recreate the look in handmade felt. It's not a bad effort but is something that I want to play with further.
I created rough fishy shapes with loosely felted, very fine, pre-felt, then put them on a base of white fibres. After felting it all together I added a black outline and some colour details with free motion embroidery, and then added some further details with hand embroidery. I thought fishy kisses would make nice bubbles!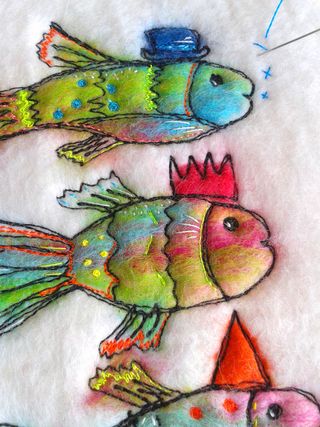 After I cut the picture out to stick it on the card I realised that where I had only loosely felted it, it decided to start falling apart a little bit around the edges - arghh!  So I had a think and I dug out my old iridescent medium that I had bought for watercolours years ago (I never did much watercolour but bought lots of bits at the time!) and painted it round the edge of the felt as a kind of "Fray Check" glue and it worked pretty well as a firm edging. And let's face it, glitter is always good!!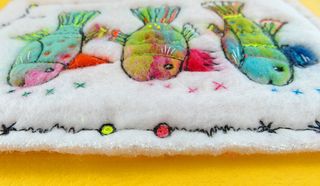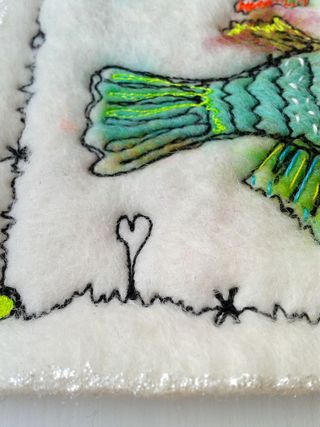 I took some of the photos outside and I lost the light quickly, but on the upside I love how some of these threads seem to glow in the dusk a little.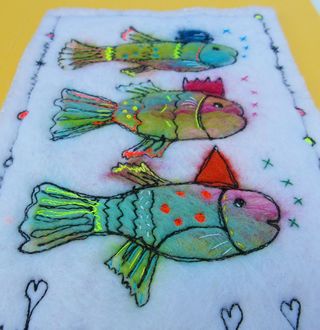 Some more pics: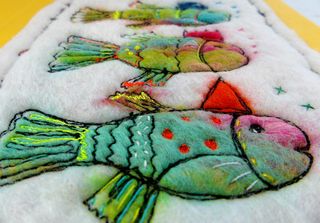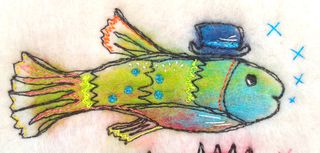 I also made his Fathers Day card to give with a gift of a special cake and truffles. I decided this time to have a dabble with acrylic paints on paper. I painted stripes to resemble a seascape and didn't like it so I got more paint on a wet brush and scrubbed over it. And then I really liked it! I added some white highlights for waves and three red triangles for sails. I was pretty chuffed that it actually does look like sea. If you look closely you will spot that I also added the iridescent medium again! I do like a bit of glitter me!
He loved the cards so I am restored to 'Favourite Daughter' (a title I love even though I'm his only daughter!)