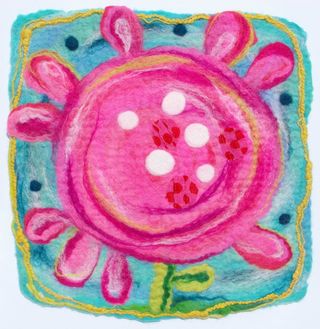 We made a Big Pink Flower to say Thank You :)
Gosh! Thank you for so many lovely comments!  We are wowed by such a fabulous response :)
All the comments for the giveaway were numbered then an online random number generator was used to choose 3 winning numbers.
And the winners are...
drum roll...
Sue
'I would be thrilled to learn how to make these! They are stunning. My fingers are crossed.'
Debbie
'Amazingly beautiful bowls. I would love to make some of these.'
Margaret
'Wow! I want to try this! I've recently become interested in working with felt. This appeals to me so much.'
(Message to the winners: Congratulations! The pdf bundle will be sent to the email address on your comment).
Many thanks again to everyone who entered our giveaway, the positive feedback is very much appreciated!  x