Lyn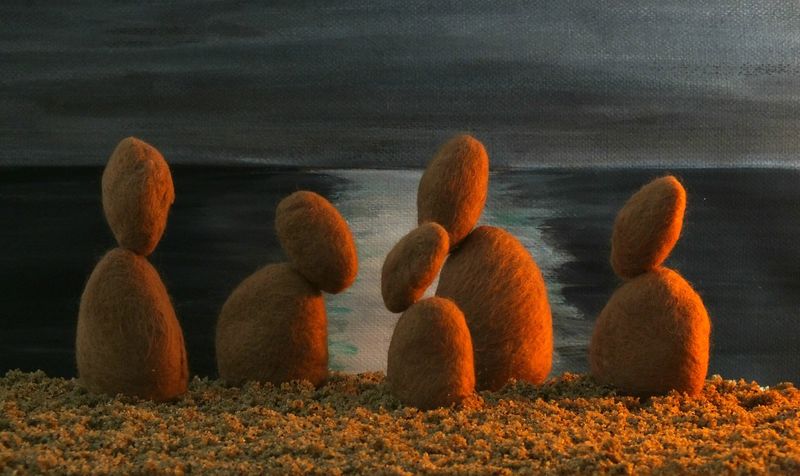 Felted Campfire Creatures Diorama
I've been lucky enough to see Adrian Gray at work on Lyme Regis beach in Dorset - his stone balancing has to be seen to be believed. Adrian photographs his finished stone art at various times of day and night to achieve beautiful images and I was inspired to make a diorama of his work shown in the photos below:

'Campfire Creatures' by Adrian Gray

The Felting and Fiber Studio challenge for this quarter is to make something inspired by a Land Artist and I wanted to make something 3D because I think it's fitting to the challenge.
I felted fourteen 'stones' using merino wool and I worked them in a slapdash fashion so that they would appear rocky instead of smooth - I didn't need them all but I wanted to have a choice as I built the scene.  To join two 'stones' to make a creature, I inserted a sewing needle so that half of it was in each piece, like a joining pin.  Then I stuck each creature, in a standing position, to a small square of card so that I could move them around until I was happy with the compostion.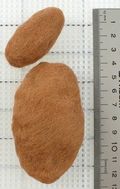 note: the 'stones' are really just large beads that I made like this but I used a lot more wool!

Dioramas traditionally have painted backdrops, and as my skills with a paintbrush are a little lacking, my husband stepped in to produce the night-time sea and sky.  He became interested in the project so we both went for a bracing walk on our local shore to get some gritty sand to finish the scene and then there was a teensy wrangle as we put it around the creatures because we both wanted to pat the beach into a pleasing shape.
Then we started the tricky business of getting the photo right.  We shone a spotlight so that it lit the creatures from the side, as a campfire would, and we got the warm glow by holding orange and yellow cellophane in front of the light but allowing a little white light to escape onto the painted moonlight.
The challenges are fun and encourage creativity so, if you haven't already done so, please join in!