Lyn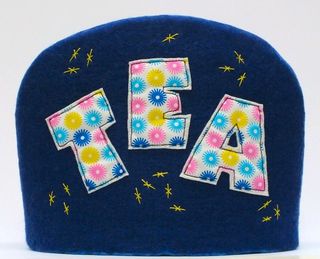 I'm not mean but I don't like wasting money.  As long as something is serviceable then I am usually happy to keep it.
After all, things often wear out long before I've had enough of looking at them...but that's not the case of a hand felted tea-cosy that I made in 2008.
I've used it daily for over 6 years but it still has many more years of life left in it, and it certainly keeps the pot hot!  However, I've tired of the pattern (it was a picture of a mermaid but I haven't got a photo of her - I didn't think about it before I removed a lot of the details - she had a shiny turquoise fabric tail and curly wensleydale locks for her hair).
Parsimony made me think about things.  It had taken me several hours to make the tea cosy and I'd used over 200g of wool, so I turned it over in my hands while I had a ponder.
The inside is a solid blue colour and is still bright and clean - I had expected it to be several shades of brown after all this time - and although there is a little of the outside colour showing along the bottom, I wondered what it would look like if I just reversed it.
It was a struggle to turn it inside out as it was very set in its ways, but after some vigorous rubbing at the 'seam' where it was formed over a resist, it didn't look too bad.  Another ten minutes with a steam iron and it looked great...but boring.  So I cut some letters from a piece of scrap fabric and pinned them to the cosy ready to machine them on.
It took a frustrating 20 minutes of trying to manoeuvre one side of the thick tea-cosy under and around the sewing machine needle to stitch the 'E' on.  Not possible. I couldn't keep the underside out of the way and under control - I had to unpick a mangled fabric letter from the felt!
So I machine-stitched the letters to a piece of thin white commercial fleece (actually it was part of an old scarf - waste not, want not), cut them out, then hand-stitched them in place.  The stars were hand-stitched with yellow cotton perle.
I'm just wondering whether to put a design on the other side now!
Annie says I should put "EAT" as a play on words on the other side, because a cup of tea is always too wet without a biscuit or cake! :)
For all those interested in online learning, The Felting and Fiber Studio has announced a new series of online workshops and classes - pop over and have a look: FELTING AND FIBER STUDIO