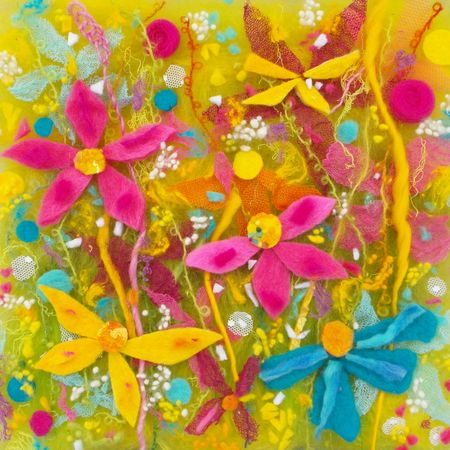 Annie
A couple of weeks ago I started laying out this picture of flowers but at the time I didn't really know what I wanted to do with it. I had started by carding some yellow and green merino fibres to make a bright yellowy lime colour for a background and then put a few bits 'n' bobs on but decided to leave it while I had a think.  Over the next two weeks every time I walked by I added something to it and just let it grow organically to see what came of it.  Turns out I ended up totally overdoing it, but actually I quite like it so I guess it doesn't matter!  A bit like having lots of birds dropping random seeds in the garden I suppose :)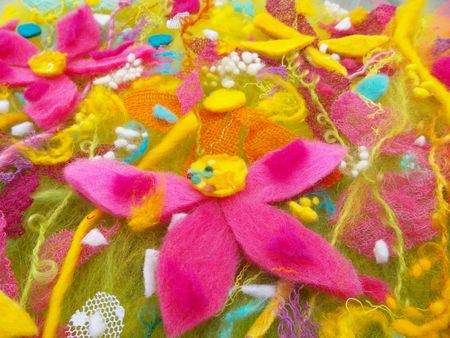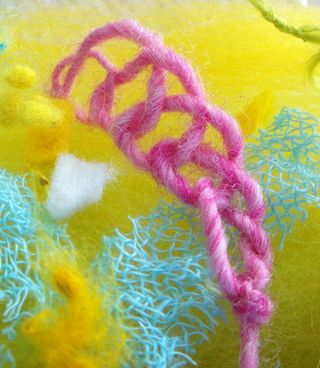 I put a detail pic in of this because I thought it was interesting - I had been trying to knit a basic skinny scarf with my handspun but didn't like it so I pulled it off the needles and this interesting shape was left.  It felted in really well!  It is easy to recreate - just cast on one short line of knitting, knit the first row then yank it off the needle.  Pull out the first row of stitches and this is what you are left with.  I have felted in single rows of crochet before too - it's great for added texture and felts in easily.
The funny thing is that I took it outside to try to photograph it and several bits blew away - maybe Mother Nature was trying to tell me something!  I thought I was playing safe by placing the fibres at the bottom of a clear plastic storage box so that I could take advantage of the natural daylight to get true colours in the photo.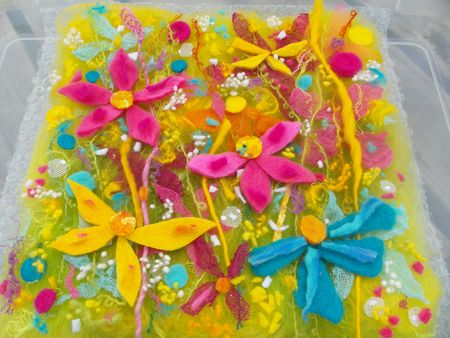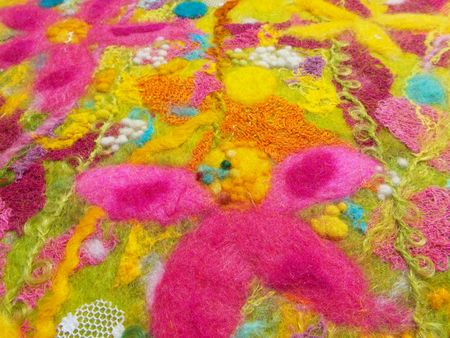 I'm not sure yet but I think it might need a tiny bit (or a lot) of stitching to bring it to life.  I'll stick it on the wall and mull it over.  It is 26cm x 26cm felted.
We do love to make pictures of felted flowers.  It's relaxing because there is no pressure to get it "right".  Anything goes - any colour, any shape, plain or detailed.
This little picture (below) I made a short while ago for a greeting card but didn't send it to anyone.  It's just sat on my pinboard waiting, as inspiration. I'm really pleased with the texture and colour in this.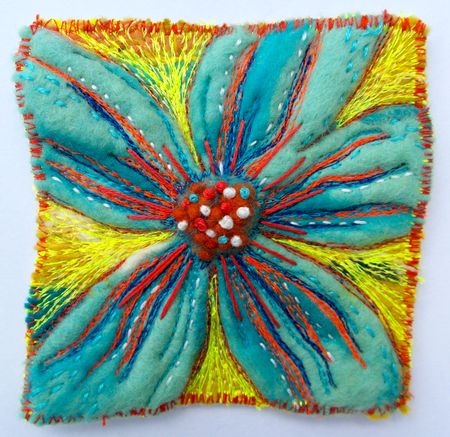 It was made from a small square cut out from a flowers picture like the pink and yellow one above.  I decided to make the petals raise up by putting really heavy machine stitching on the background between the petals.  It worked really well.  I added more running stitches and french knots by hand to finish it off.  I really like this effect.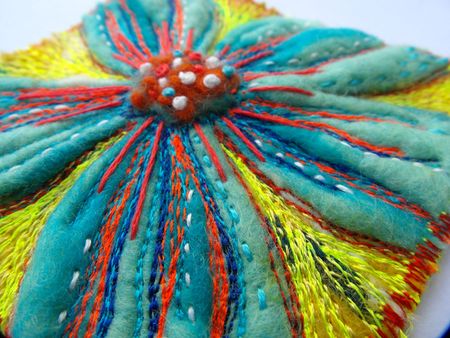 It's another thing in my pile of "ideas to take further" when that elusive spare couple of weeks turns up :)