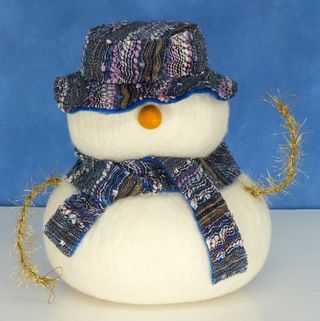 Sid the Snowman has a very important job to do. He helps the Christmas Podding to hide our Christmas chocolates!
He stands 23cm tall (9"), and when he takes off his hat and scarf, he transforms into two bowls.  We're still arguing over who has the small one.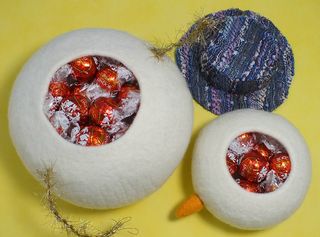 We made two white pods for Sid's body and head (how to make a pod). The large pod's resist had a diameter of 27cm (10.5") and the small pod's resist had a diameter of 17cm (6.5"). His wet felted orange carrot-nose was stitched to his head and his arms were made from beading wire and tinsel.
We made a piece of blue nuno felt from which to cut and stitch a hat and scarf.  The hat was made in the same way as the hat in the previous blog post, but it was larger, so the two parts that made the crown of the hat were stiffened by ironing the nuno felt onto stabiliser.
So after we'd sorted the most important job of all (the stashing of the choccies) we had some present wrapping to do.  One of the rolls of wrapping paper was so thick and pliable that we got distracted and started thinking we could machine stitch it - it got us wondering what we could make with it. As we like to have little gifts on the Christmas dinner table, we made these cute paper stockings to hide them in!