Annie
During a brief window of sunshine last weekend we took a short walk from Lulworth to Arish Mell and back - we just got back to the pub in time before the rain started. Perfect!
It's only a short walk (but rather hilly!) and the scenery is beautiful. It got me thinking that I haven't made a landscape picture recently and when I got home I put my thinking hat on.
I was looking through my felty bits and found the piece of felt pictured above (not sure which way up I like best) that I might use as a starting point for ideas - it is cut from the side of the piece of felt that I made the New Year video from.  It's sort of an "accidental landscape".  I love that about felt - from one big piece you can cut it up and make tiny pictures - sometimes they just present themselves. A bit like the little pieces below - I made one sheet of handmade felt to cut letters from then decided I didn't really like the shade of pink, but the mini landscapes are rather nice :)
Anyway, on the walk I took a few photographs but mostly kept my hands in my gloves because while it was sunny it was cold!  Except for walking up Bindon Hill and back up from Arish Mell - that was hot work!
Even if it had been a glorious day there was no time to sketch anything, my husband always walks at 100mph! I might have to go and do the sloooow version on my own at some point and take in more of the detail.  But from what I saw and the photos I did take I thought "From Lulworth to Arish Mell" would be an interesting project to make in handmade felt.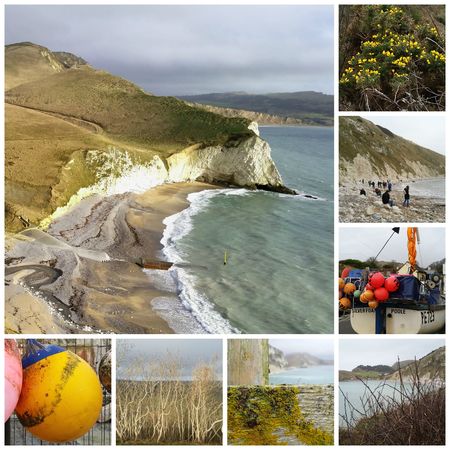 I haven't really got a plan yet - but I don't want it to be too literal. And I want to keep it smallish. Just have a play with nice colours and shapes and a hint at what it is. Although that could change.  I've just started by making several pieces of pre-felt that I can collage together and cut up and stitch and needle into.  I'd possibly quite like this picture to end up flattish and more like a painting on a canvas than a highly textured piece of felt.  Well, that's what's in my mind's eye, but let's face it quite often I end up with something else entirely!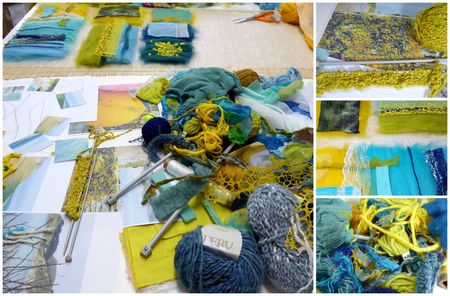 I was looking through some old bits of felt for inspiration and rediscovered the nice effect you can get from needle felting scrim through from the back of thin felt - I love the little loops, although the photo below (blue) doesn't show it that well.  It's a bit like when you've played with the tension on the sewing machine.  Also the pink piece is dyed scrim (open weave cotton fabric) on yellow felt.  I love the colour peeping through and the effect it gives the felt. I've made 7 pieces of pre-felt so far for my little landscape.  I want to do some more, maybe like the samples below and some almost see through white pieces to layer up.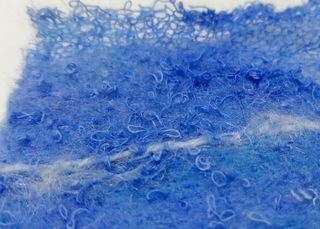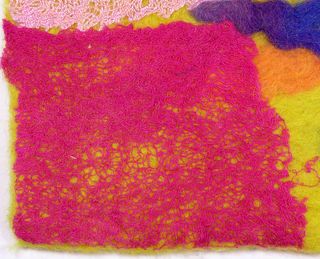 I'll work on this alongside some other projects and see where it takes me.  A couple of weeks ago I did another fabulous Art Taster painting workshop at the Colour Factory in Winchester (which I'll write about at some point because there is another felt picture waiting to get out from that!).  During the workshop I was describing my difficulty in focussing on a single project until it is complete because so many ideas keep coming, and I keep getting distracted, and we decided that for me maybe having multiple projects on the go might work better because it can keep things fresh and keep you interested because you are not dedicating all your spare time to one single idea. Let's see!
Here is the painting I did on the day - Pomegranates!  I didn't finish it because I ran out of time, then I decided that I actually really like it unfinished and to do any more work on it would ruin it.  So at least I can count that as a finished project :)