Lyn
We both liked the idea of making a felty pineapple thing, using this picture Annie took as inspiration a few years ago: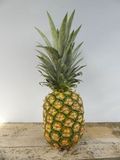 I decided to make a wet-felted and stitched bowl...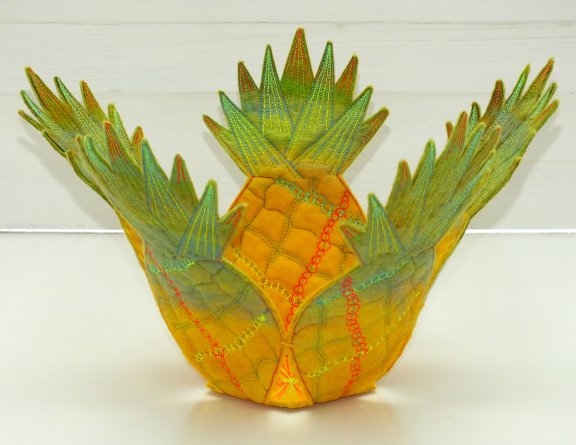 I like the way the light shines through the gaps at the base...
...and I love the deep golden yellow of the merino wool.
The finished bowl is a million miles away from my original plan, but that's often the case when you're making something for the first time isn't it?  The handmade felt was stitched and unpicked dozens of times - but handmade felt is very forgiving as long as you're careful with the stitch-ripper.
The photo below was taken inside the bowl to show a whole pineapple, each one is 22.5cm tall (just under 9"), and the base is a pentagon.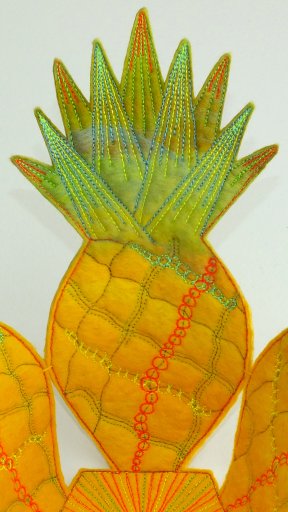 My Dad saw the bowl before I stitched it into shape and he reckoned it might make a nice table centre on a round table.  I think it works quite well!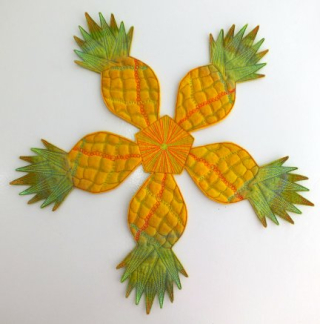 Annie
Mum's bowl makes me fancy a nice tropical cocktail!  Grandma and grandad used to have a pineapple ice bucket on their drinks cabinet :)
I decided to make a picture of a pineapple - like mum, mine doesn't look anything like what I had in my mind!  Although it's not finished yet (par for the course with me!) as I think maybe it needs a bit of snazzing up with some bright stitches.  Will have a think.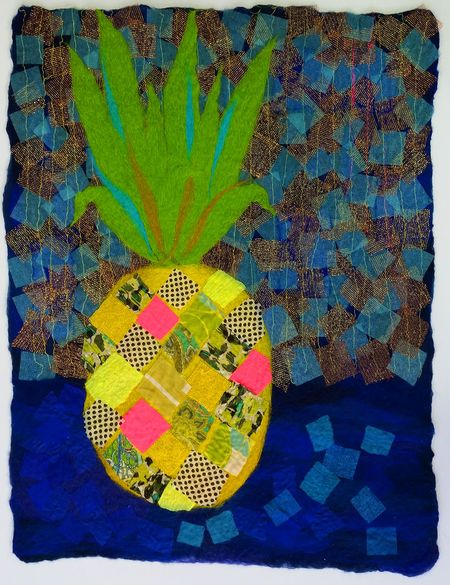 Here are some pics of the process from start to end:
Lots of mess - standard!
Decided the dark blue background was too dark (not a colour I'd normally choose
but it's good to get out of your comfort zone every now and again isn't it!)
so I lightened it up a bit with some squares of fabric and netting.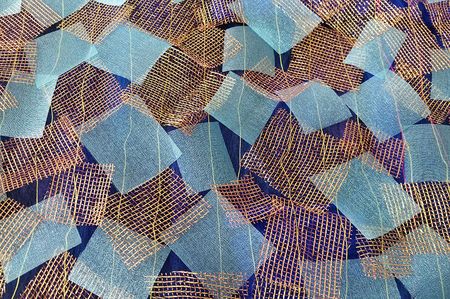 Close up of background - the stripes are strands of yellow silk that
I originally planned to make into a wallpaper background.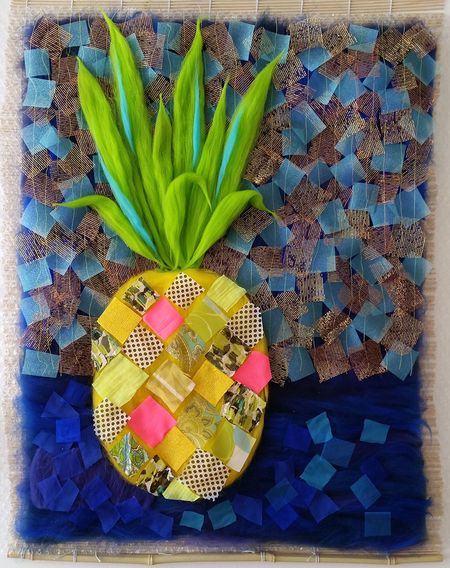 I had to have a few goes at the greenery - it kept just looking like
an odd plant in an odd vase!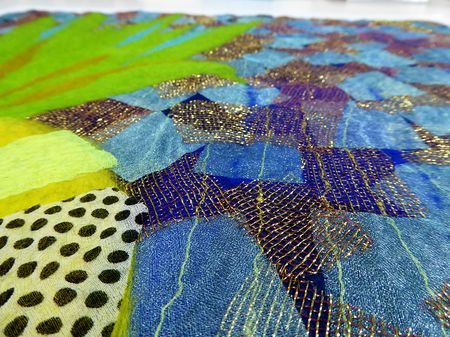 Close-Ups After wet felting
Ta da!  My pineapple (or an odd plant in an odd vase - you choose!)
He will go to live on my craft room wall until inspiration strikes and he might get some stitching!