Annie
It was mum's birthday recently and I like to make cards when I can although invariably I run out of time and am late!  I often start by having a rummage through the odds and ends of scraps and samples in my sewing room looking for something to use as a start.  This time I dug out a piece of flat felt from the end of last year that I had actually made for Christmassy things but didn't use it, and then in the spring had appliqued a few flowers on it and then abandoned it.  So this time I gave it it's third outing and ended up with a nice flowery card for mum's birthday, which was at the end of July but she received it a few weeks late!  Well I couldn't have delivered on time else dad might have thought it was favouritism :)   It's funny how with fresh eyes something once discarded can later be made into something new.
The basic process involved machine appliqueing small pieces of handmade felt onto a felted background to form the flowers, then adding lots of hand stitching around the edges and on the background.  Finally I cut round the design, edged it with a free motion zig zag and stuck it to a folded piece of A4 card.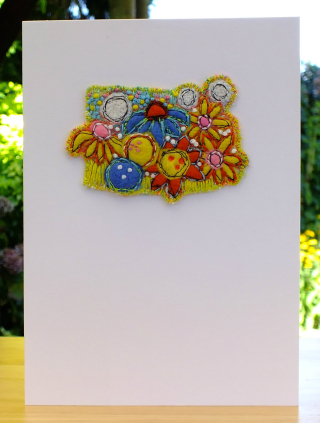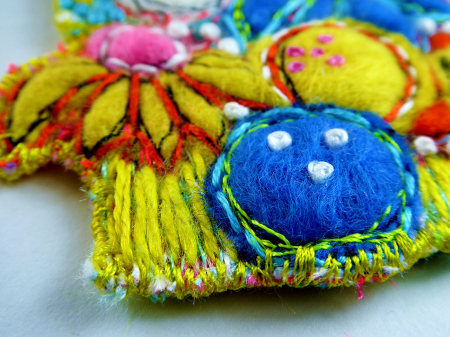 Here's a pic of the back of the stitching at about half way through. As always, I liked the look of the back too!