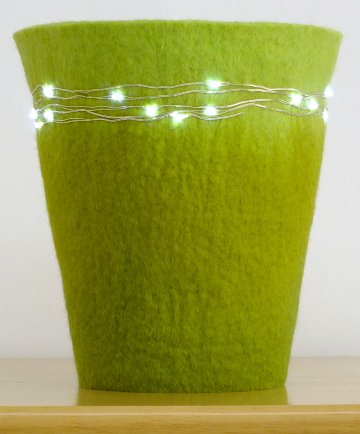 Lyn
Back in the summer I bought two strings of led silver wire lights and I used one set inside a decorative glass bottle.  I put the other set by for Christmas with a vague idea of incorporating it into a piece of felt.
Well, just over a week before Christmas and the set of lights was still untouched on my projects pile.  So I looked around for inspiration and spotted the bright red amaryllis we have indoors for Christmas...well actually we have a pot with several very tall green shoots in it but it will be lovely when it blooms.
I thought about simply wrapping the string of lights around the pot but it's a dull colour, so I made a piece of felt that the pot could sit in.  I used merino wool in three shades of green: olive green at the bottom, pistachio green in the middle and spring green at the top - finished height is 8" (20cm) - and this is the shape I cut to wrap around the pot.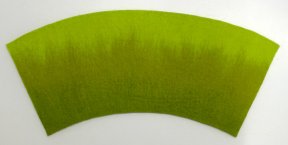 I stitched the wire of lights to the felt using "Bottomline" pale grey thread - it's a very fine thread so stitches aren't noticeable unless you look closely.

I closed the back with cross stitches using three strands of embroidery thread.  In the photo below you can see that the battery pack sits at the back of the pot on the shelf.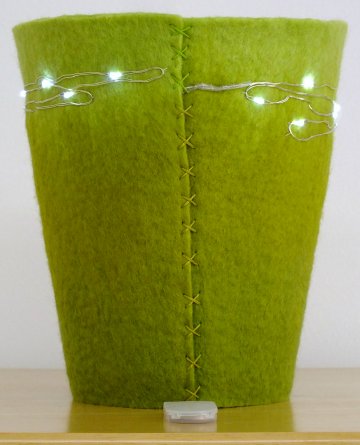 The wrap looks good too without the lights.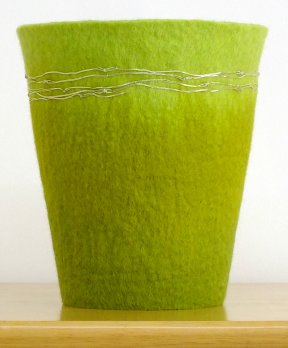 And here's another view of the lights - I just turned the pot slightly to view from a different angle.