"filzfun" magazine is packed with diverse articles of interest to felters worldwide. In the current issue you'll find: Judit Pocs (felt artist), Lisa Klakulak (Stongfelt), Terese Cato (needle felter), Stefanie Holzgrawe (felt urns) and many more.   
Here's our copy of 'filzfun' with the English supplement - we were thrilled to see Annie's embroidered felt on the cover.

We were pleased to be asked by the "filzfun" editor to write a tutorial for felters who wanted to make 'something a bit quirky', and as it was to be for the issue being published in late February, our thoughts were of melting snow and delicate spring flowers.
We played around with ideas and prototype pieces of felt to design a 3D table runner. It's mostly made by wet felting but needle felting was essential in the final stages. You can get an idea of scale from the photo below ... yes, it's posed, we weren't actually using those felting needles because we'd finished the piece!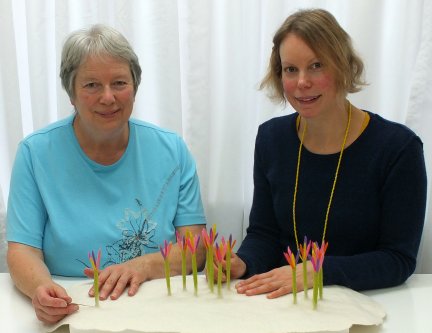 We like the reflections created by the flowers when the runner is placed on a polished table...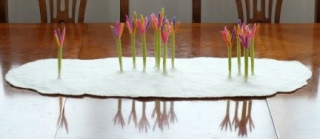 ...and we reckon that variations on this theme would be fun to try!