Annie
One of the things I love about flat felting is that even if you approach it really randomly, say when trying out new fibres or fabrics or other inclusions, you quite often end up with something that you can turn into something else like a small picture, greeting card or an interesting bit to chop up and use in the next picture.  The picture above of a cliff top is just a tiny piece cut from a bigger sample that was not intended to be anything except a sample which included using silk under merino.
I hacked together a little wooden frame that I painted white. My woodworking skills are really lacking  - although it probably didn't help that I tried to saw the bits up balanced on the end of my sewing table rather than finding a proper bench or something to hold the wood with. It's quite sweet though I think and you gotta try these things!
I haven't made many big pieces recently but instead I've been enjoying just sampling and experimenting and collecting my thoughts. Probably I have collected too many thoughts (and photographs and sketches and scraps of paper!) but better to have too many than not enough!
I got my rotary cutter out and chopped some shapes from some of the pieces of felt that I had made for various reasons, some that had been to try out fabrics and some just to see what happened. I used a homemade cardboard viewfinder (basically two right angles of white card that you can hold close together or further apart to get a bigger or smaller aperture) to pick out interesting bits. I found several sections from odd pieces that started off as samples with no plan, that could now either be used as they are, maybe as little landscapes in a tiny frame or on a greeting card, or cut up or stitched for further experimentation.  Maybe they are beach scenes, flower pictures, or perhaps backgrounds for stitching practice: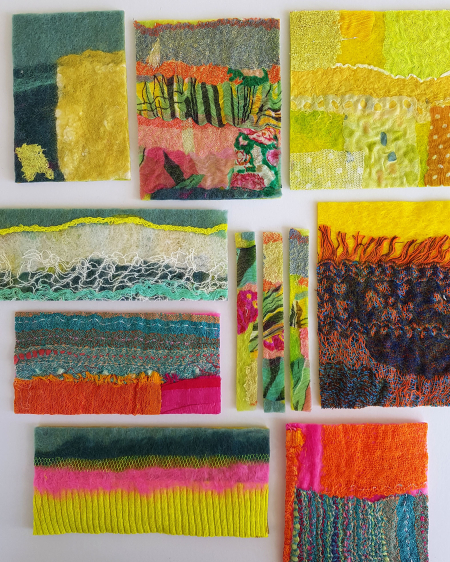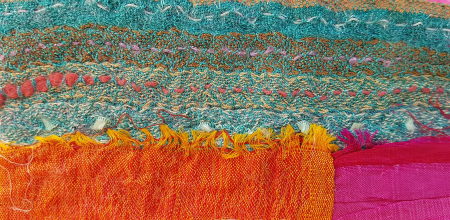 Some of them I left whole to play with. Like this bit...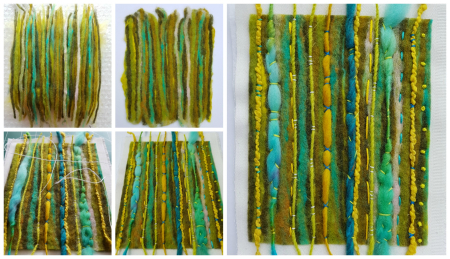 ...that I decided looked like a forest of tall trees.  I added lichen and moss with stitching but I haven't finished with it yet (possibly I'll push it with machine embroidery to see what happens).  In this sample I was testing out some new strange yarn and as it looked like a forest of tall thin trees I thought I'd go with that in a sort of abstract way. I've taken lots of photos over the last few years of straight tall trees in the New Forest so they must have been on my mind when I looked at it. I love the colours of all the moss and lichen that spreads across the whole forest. It's impossible to count all of the greens and yellows. I especially love the more acidic ones as they really make a scene or a picture pop.
Maybe this one could be a riverbank? This one I left whole because I liked the fabric hanging off the bottom. I also really like the thin white felt with a hard edge but that is also slightly see through. I might make a big sheet of that for adding highlights and structure to pictures. I had only been trying out ideas like seeing what the dark blue open weave scarf that I had stitched chunky yarn into would turn out like and also if the tropical print fabric from an old top would felt in well.
While stitching the trees picture I remembered how effective couching can be and remembered I had scribbled a page in my sketchbook recently to capture some ideas about different ways to couch. I will have to sample some of those soon. I find hand sewing really relaxing once I let myself get into it.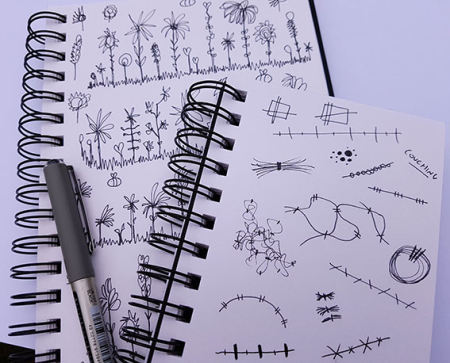 In the bigger book behind I'd been practicing taking the pen for a walk and at the same time practicing making imaginary flowers with a single pen line as far as possible which is useful once you get on the sewing machine. I wish I would do more in sketchbooks, it's a great way of getting ideas down quickly for textiles. I can't always get ideas down fast enough in fibres.
I recently went on a beginners bookbinding day workshop and now of course I want to make my own sketchbooks / scrapbooks! I haven't progressed with organising my textiles scrapbook yet, but it will come when the time is right.
I want to use some of the photos I've taken over the years to feed into my work too. Periodically I attempt to sort out my digital life although it always seems to be a losing battle! However, I'm currently embarking on another go at it! Has anyone else got thousands of photos of flowers, bits of trees, railings, sea gulls, beaches, beach huts, various interesting looking odds and ends and patterns that they took with the intention of using in their textiles work? My friends have finally got used to turning round to see me still listening to them but crouched down taking a photo of a leaf on the pavement or pondering the sky and looking at the shapes in the clouds or the cover of the trees. One of them recommended a book recently for organising and focusing a creative mind. Maybe I should take the hint! :)