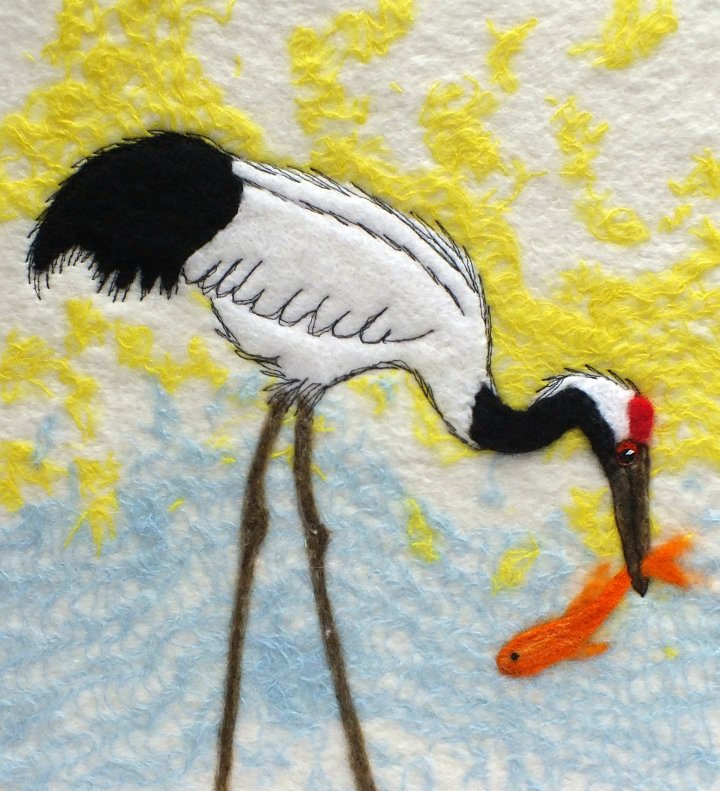 Lyn
I've been enjoying the summer holidays and making the most of the garden, but that does mean I haven't spent a lot of time indoors playing with fibres!
However, I can't resist the challenges set by The Felting and Fiber Forum and this quarter the challenge is to make something inspired by Japanese Edo Art.
I searched the internet for examples of this art and I saw some very complicated paintings but also some simple ones often featuring Japanese Red Headed Cranes.
My first planning-drawing was just of a crane, but I wasn't happy with it because it was static and pictures need to tell a 'story', so I changed his posture and added the fish!  
The simple paintings from the Edo Art period have uncluttered backgrounds, so I chose to make an abstract one with yellow and blue yarns felted into off-white merino wool.  I used bright-white merino wool for the crane's body so that it stood out from the background. The picture is mostly wet-felted but I used needle felting to add some details.
He's about 26cm (10") tall and needs a frame.  I think it will have to be a very slim and simple black wooden one to fit in with the Japanese art style.