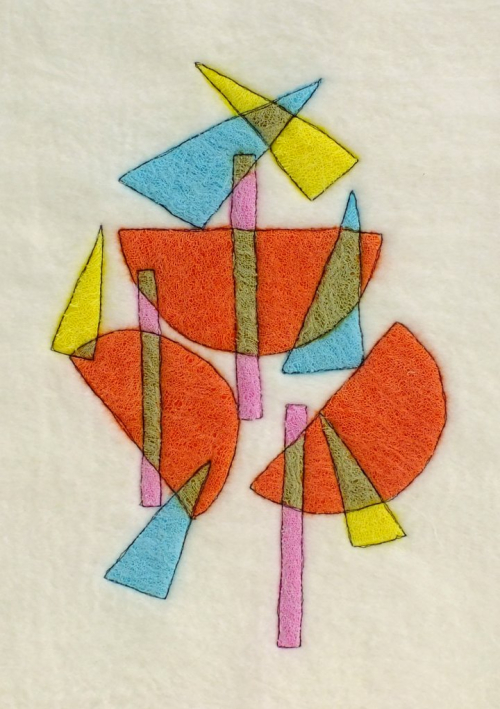 Lyn
This quarter's challenge from Zed on the Felting and Fiber Forum is to make a piece of felt in the style of 'Suprematism'.
No, I hadn't heard of that style of art before either!  So I 'googled' and 'youtubed' but I still don't really understand it. 
However, it seems to be all about placing simple shapes of various colours and textures into a pleasing arrangement!
For my texture and colour I used some of Annie's hand-dyed scrim - I made 5 pieces of nuno felt by placing dyed scrim onto similar coloured merino wool from which to cut the shapes I wanted.
I chose to make the background from white merino wool so that it looked like an artist's stretched canvas.  I carefully placed the shapes, then even more carefully I began the felting process from the reverse side - I hoped that this would preserve the arrangement.
I only rubbed the wool fibres so the felt is still 'soft' but it's firm enough for a piece of art, and the finished size is approx 40 x 26cm (16"x 10").
Some of the shapes went a little wonky - such is the nature of felting - but after a bit of black stitching I'm happy with the result!