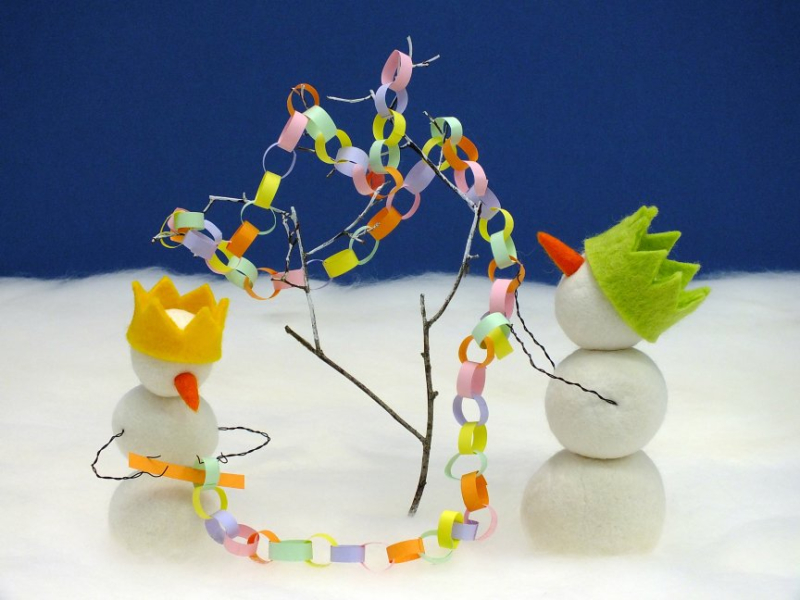 Lyn
This year's Christmas card image is of a simple diorama and I'm pleased with the way it turned out, but it's very different from my original idea!
I wanted to make another snowmen diorama and my idea, inspired by an old memory, was to have two snowmen decorating a tree with a string of multi-coloured LED mini lights. Back in the day it was always Dad's job to put the lights on the tree - after everyone had helped to untangle the 50 feet of wire and bulbs - and he'd have to fiddle with every bulb to find the one that had broken and was causing the whole string to fail.
Whilst smiling at the memory I made a quick sketch of Mr Snowman putting the lights on the snow-tree and Mrs Snowman untangling the end of the string for him.
I couldn't wait to start so I bought some spotty fabric for the background to give the impression of snow in a dark sky, then I made a piece of white felt to form into a cone for the snow-tree and finally I made 6 snowballs - they're still drying on the rack in the photo and the biggest one is 2.5" diameter. (My first snowman diorama was made in 2015 - see this post for some 'how-to' tips)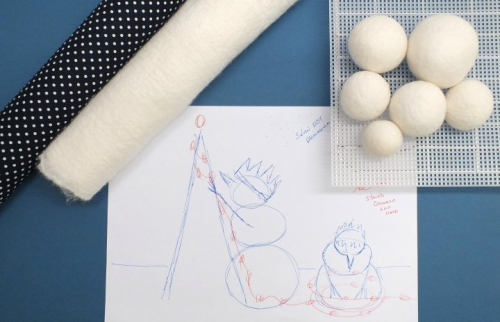 The snowmen were easy to make from the snowballs. I made 2 carrot noses from orange merino wool and cut 2 party hats using felt from my scrap-box. The arms were formed with black florist's wire.
The cone-of-snow tree was easy to make too ... but it just didn't look right.  I carried on and stitched the lights to it but it still didn't look right. So I removed it.
I chewed the end of my pencil for a bit then I thought of finding a twig that might look like a tree.  I painted the upper 'branches' with white acrylic paint and made a heavy base for it from modelling clay.
It was tricky getting the wire string of LED lights into place - it comes packed as a coil and wants to stay that way - but eventually the scene was complete and photographed.
Sometimes I hate cameras.  The little scene with its multi-coloured mini-lights was so pretty but try as I might I could not get a photograph of it.  The colours in the lights almost disappeared and where they touched the white merino wool 'snow' it just looked like a huge white flare. So I removed them.
At this point my plan was in tatters so I chewed the end of my pencil again and my mind wandered back in time again to when our front room would have paper chains hanging everywhere.  Then I remembered that a young Annie had once made yards and yards of miniature paper chain ... Ta-Dah! 
I cut strips of coloured paper 1/4" by 2" to make the chain and I used a glue stick to secure the ends of the strips together.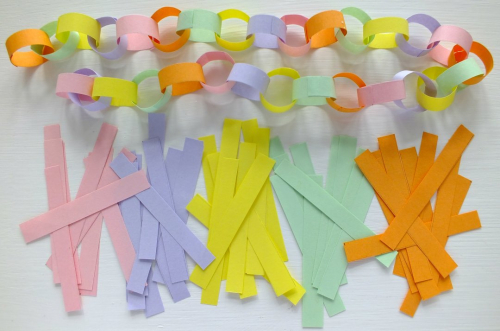 The finished paper chain draped around the tree beautifully and it was easy to place into the snowmen's hands.
But photographs revealed that the background wasn't working.  You know how sometimes a stripey fabric can make your eyes spin?  Well, the spotty fabric gave the same effect in a photograph! So I removed it.
Luckily I have a very large coloured board that looked just right as a background and the lovely blue sky was the perfect backdrop for white text - here is the finished image I sent to the print-shop.