Annie
I know I should probably be all Christmassey with my craft projects by now but I'm just not feeling it yet so instead I made a picture of a jug of colourful flowers. I like to think of it as getting ahead on spring projects :)
This picture could be considered finished as it is but you know me I have a few ways I'd like to work on it further.
I started by putting down some layers of fibres but also some scrim layers because I think I might like to play with it on the embellisher to see if anything interesting happens. I'm thinking the cotton of the scrim could do fun things and I'd also possibly like to knock back some of the colour around the flowers with something white - maybe white fibres, maybe some white fabric. Not sure yet. There's a good chance I'll ruin it as I do like to push things til they break, but at least I have a photo of it for reference :)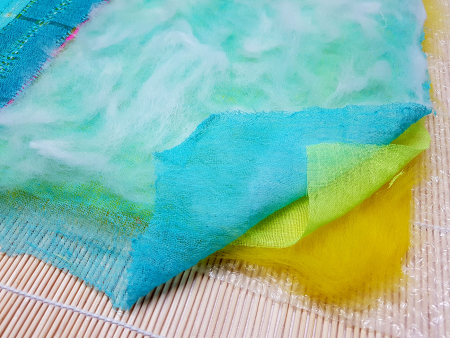 Once I had the base layers down I started drawing and colouring in the picture with scraps of fabrics, silk threads and lots of shapes cut from pre-felts.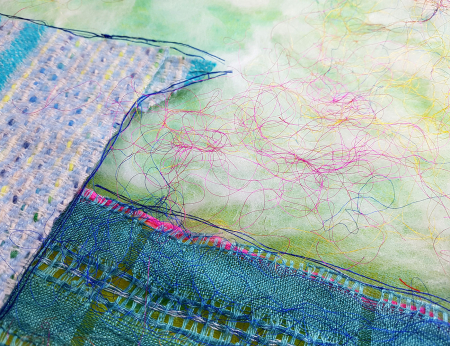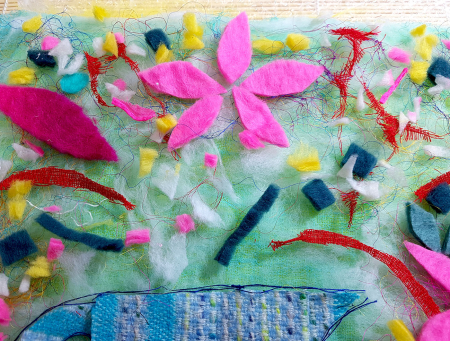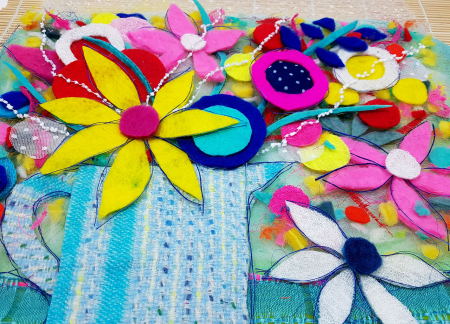 I kept playing with it all and rearranging the pieces until I was happy with it then felted it. So as not to disturb the design too much and limit the crinkling of the fabrics I felted it flat with no rolling on this occasion. I love texture in feltmaking but for this picture I wanted to keep it quite flat and more painterly. For now anyway! Who knows what I might do to it later :)
Here are a couple of pictures at an angle so you can see it is quite flat despite all the tons of odds n ends I used to build up the picture. I like the outline around some of the details made from dark silk threads I pulled from some fraying fabric, and I like the bright colours showing through the "table cloth" at the bottom.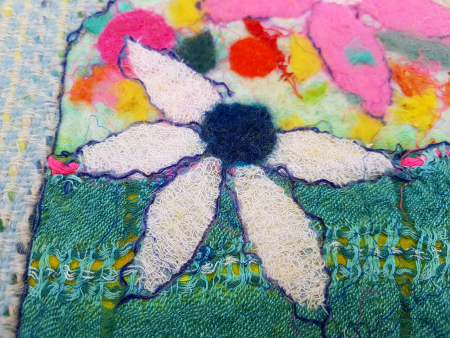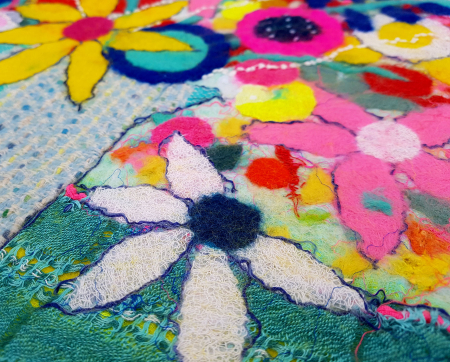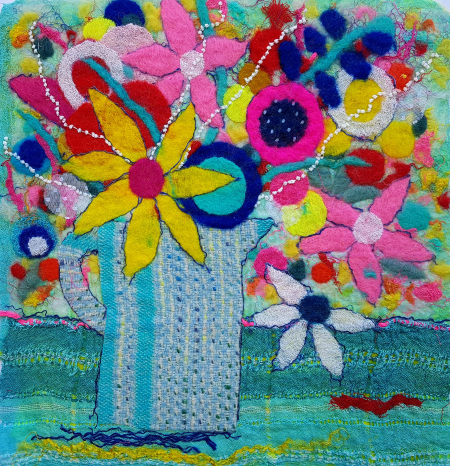 I do like it as it is, but I made it to play with and experiment on so I mustn't be precious about it. I think it will get a stint on the wall while I think about it more, and also I feel like I might try on my Christmas hat and attempt at least one small festive project before I come back to the flowers. Trouble is choosing something and getting on with it as time is really rather short now!