'Surface Design' is this quarter's challenge on The Felting and Fiber Forum, so I chose to make felt topped with fabric (nuno felt) and stitching, and as it's February it had to have a Valentine influence!
Lovebirds are traditionally used to depict 'billing and cooing' but I favoured cockatoos for my design, and as I can't draw a cockatoo without help, my thanks go to Darkonator who's posted an easy to follow tutorial.
To make my design I drew two cockatoos - the female facing left with her head tilted upwards and the male facing right with his head tilting down and I drew his crest larger than hers. I cut both birds out then placed them, at the angles I wanted, onto a new sheet of paper then I added the branches. 
Cockatoos aren't that colourful really, but hey, I had a gorgeous piece of loose-weave fabric that was begging to be made into nuno felt, so I started with four fine layers of merino wool fibres - the top layer was variegated ...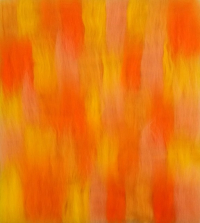 ...then I covered the wool fibres with the fabric.  Shown below is the finished nuno felt and a close up to show the lovely texture.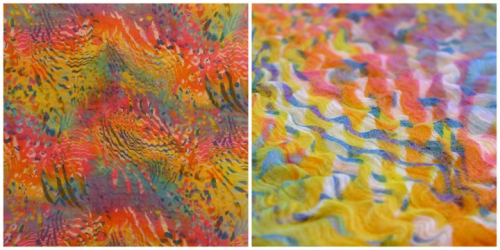 I traced the outline of the bird design, cut it out, then tacked it onto the nuno felt.  I had to use more than one piece of tracing paper so the more opaque areas are where two sheets have overlapped and the shiny bits are sticky tape that I used to secure the ends of the tacking thread.  The design is approx 12" tall and 11" wide.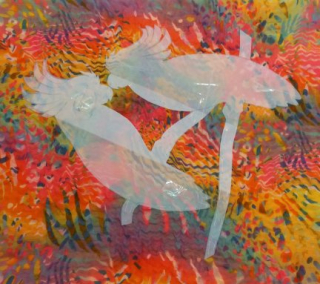 I stitched around the outline then removed the tracing paper.  It was then easy to complete the cockatoos within the outline. When the stitching was complete, I cut the birds out then stitched them to very thick artist's paper. 
Now I'm going to have some fun trawling the local charity shops in search of the perfect frame ... and with luck I'll find some more fabric for my stash!