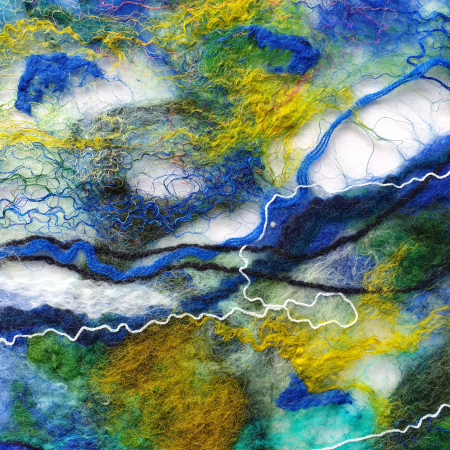 Above: Experimental Fibre Layout
Annie
A while ago I made a tiny sample of "barely there" felt from a few wisps of fibres and some threads and yarns.  It's only approx 12cm x 17cm (5in x 7in) and I pinned it on my board for future reference: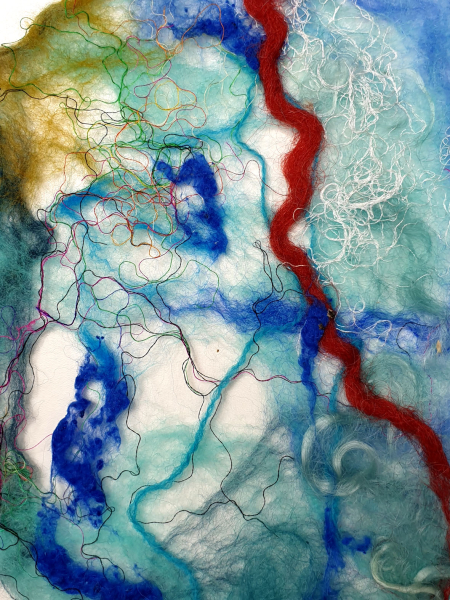 This structure of fibres would only really be useful for artwork as it's so delicate, but that's mostly what I like to do anyway. I found it quite interesting so I decided to have another play with this way of laying out fibres, only a bit bigger. It's quite similar to the work I'm doing with puffing out and felting batts, skipping the laying out of perpendicular base layers as you might in the traditional fashion. This also uses lots of extra bits like fabrics and threads.
I've made two pieces so far, both of which ended up more substantial than I had planned but will be making some more to try out various structures of threads and fibres to see what works. That's the trouble with feltmaking - I find that I start off with one idea in mind then end up doing something else!
Anyway, this one started out as a seascape because I had the forum quarterly challenge ("Seascapes") in mind but actually reminds me of when you look up through the trees towards the sky: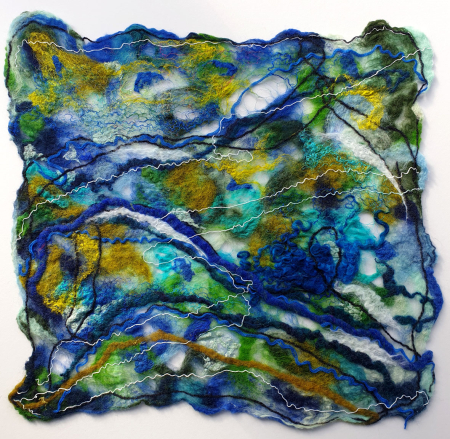 Here it is while it was still wet: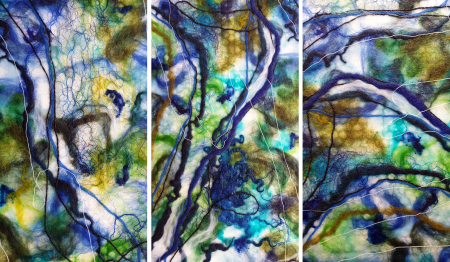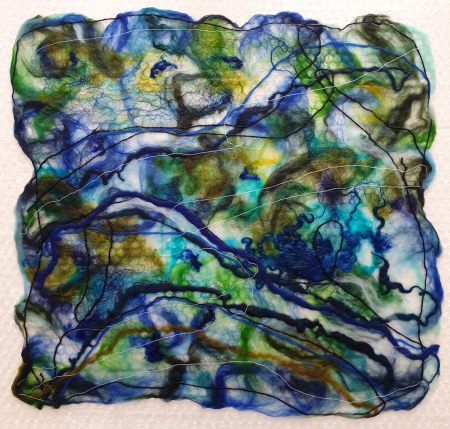 It is approx 40cm x 40cm (16in x 16in).  It didn't change or open up as much as I thought it would during felting despite laying down the fibres quite sparsely. I think I put down more fibres than in my original sample. I made the sample ages ago though so it's hard to remember exactly what I did.
Some cropped out sections of the bigger piece look quite interesting. They become seascapes, landscapes, or just colourful abstracts.  These 2 cropped pieces I think do look like seascapes...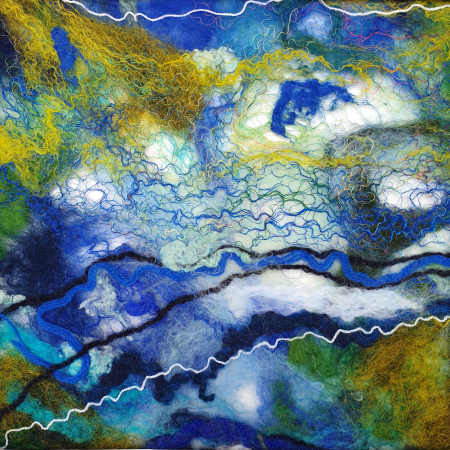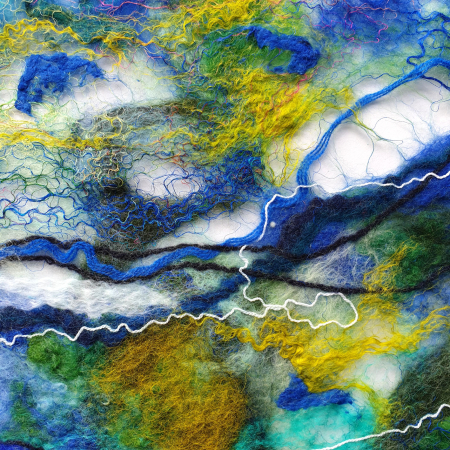 ...but it's satisfying how you can see different passages as different things as you move a viewfinder around over the surface of the felt.
The second piece I've made is a slightly bigger piece and is more seascape-y. I'll post it in a couple of days as I'm aware this is getting long and rambly already!
I'm going to have a go at a few more too. I think I'm going to have to do one of a meadow or a vase of flowers. I'd like to go bigger too. I also think it needs some experimenting with paint and stitching. This felt would possibly make interesting prefelt if cut up into shapes too. Hmmmmm..... :)