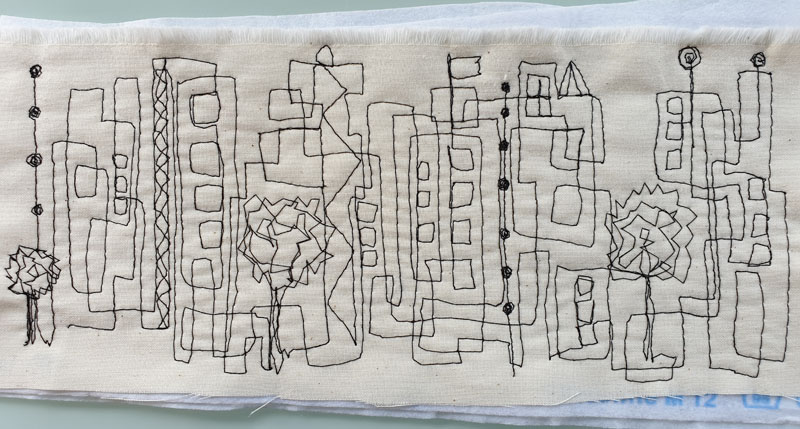 Sketching with the sewing machine to try out ideas
Annie
The Felting & Fibre Forum's 3rd Quarter Challenge of "Cityscapes" initially presented me with a bit of an "arghhh" moment. I usually take inspiration from the seaside, countryside, flowers and other natural and organic lines and shapes so this would be a bit different!
So what to do? First of all, procrastinate. Obviously. Now mid September it's getting a bit late so time to start! I started by rummaging through my 1000s of photographs. We've been on lots of city breaks over the years so I figured that was a good place to begin.
I found various photos that I thought I could use but I also knew that I didn't want to be too literal in my interpretation.
Some of the photos I found that appealed to me for the challenge:
Trees in front of buildings in Paris: Trouble was that this could become a bit of a cop out as I might allow myself to focus on the tree! Maybe one for later.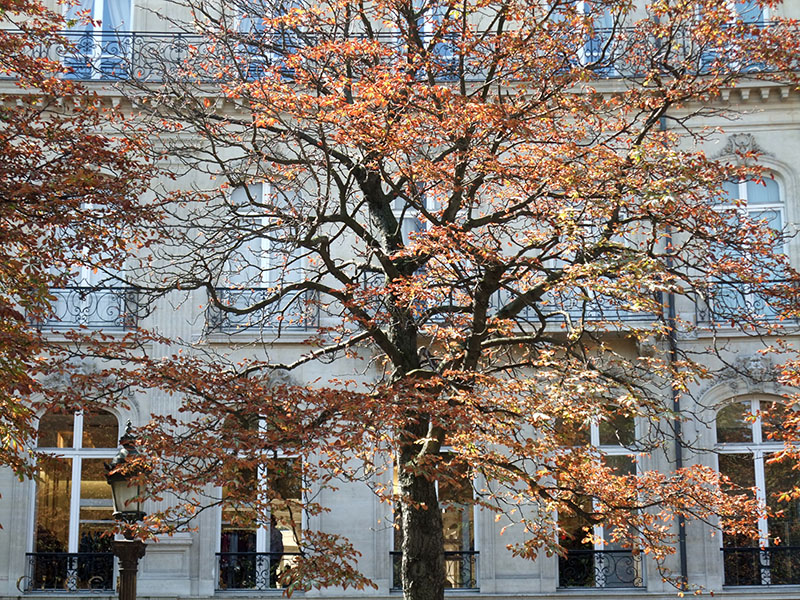 Hong Kong skyline:  decided that these had the potential to just be too literal, so discarded for now. Might come back to this for shapes.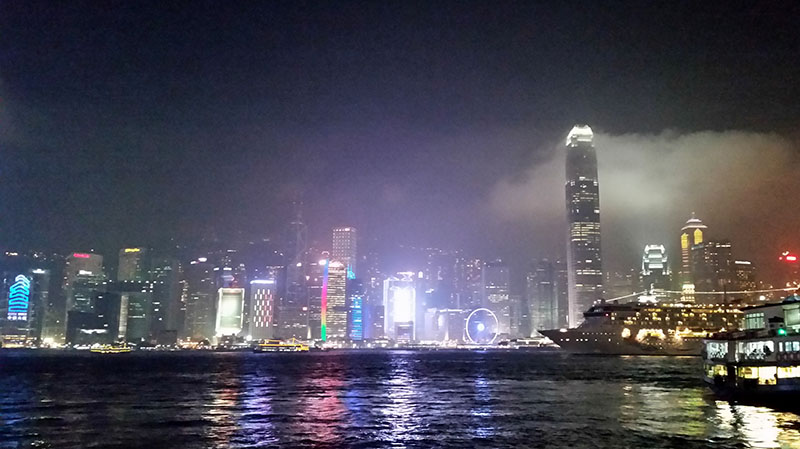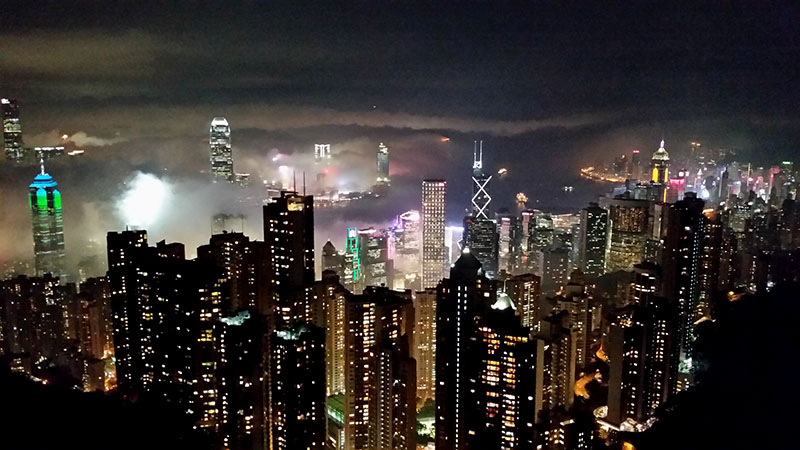 London skyline: same problem:

Hong Kong escalator:  I like this one of a central disappearing point - I like it because of the potential for the interesting star shape composition. Maybe.
Hong Kong bamboo:  bamboo is so strong it is used as scaffolding- it is incredible to see!  I like the patterns. Another possibility.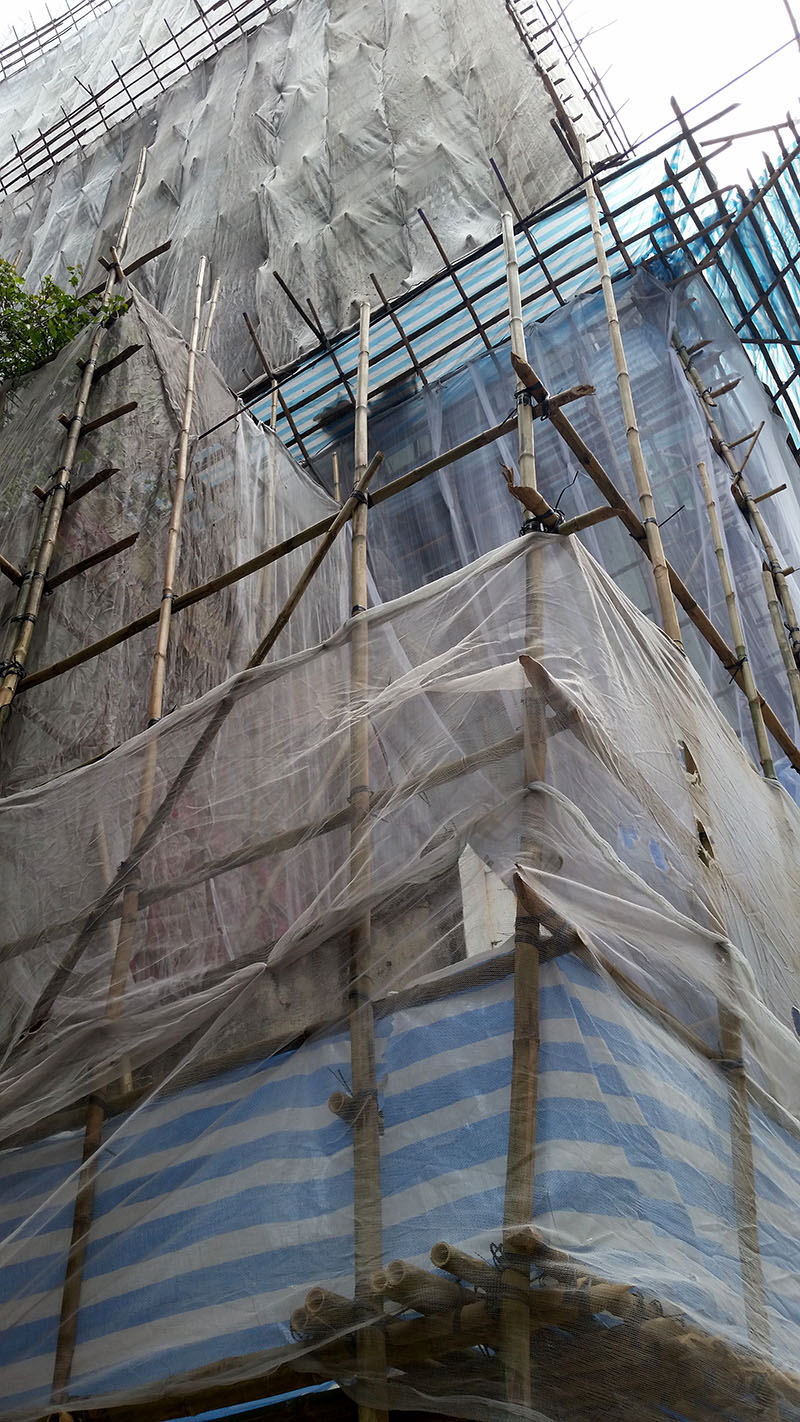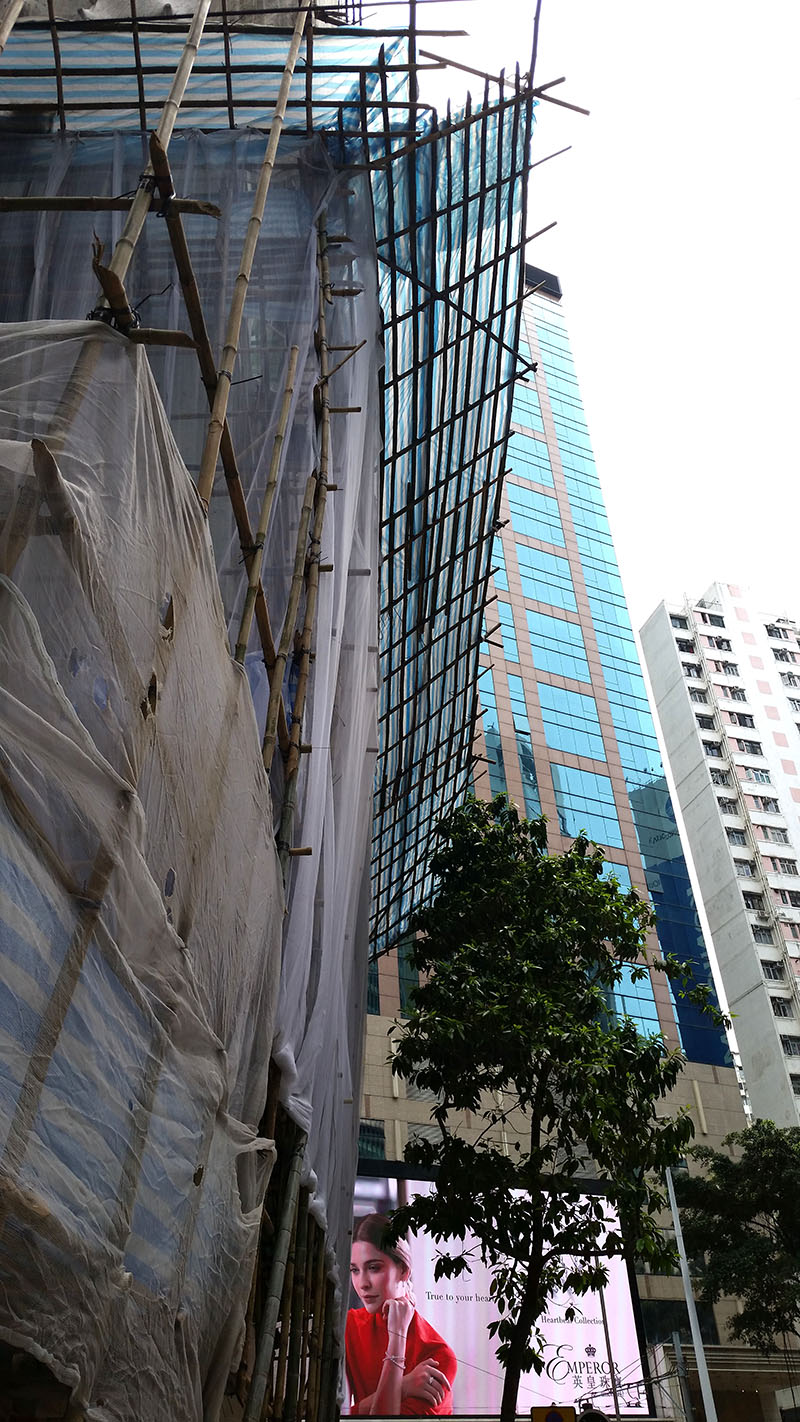 Also this one of some buildings, taken looking up from the pavement.  Quite an interesting view point: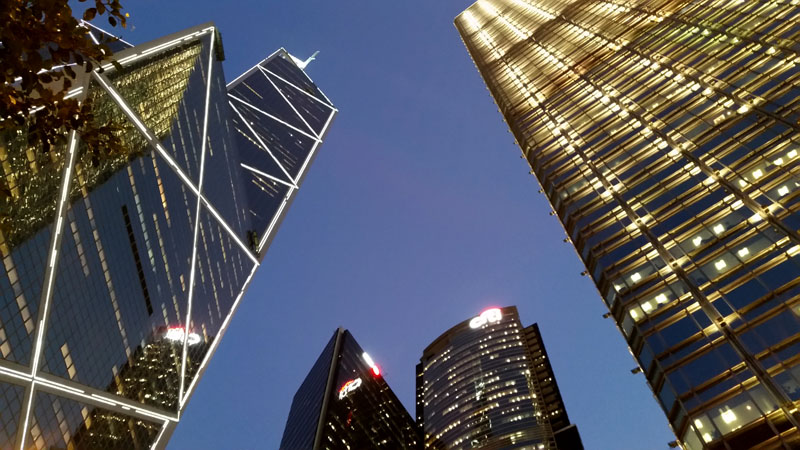 After some consideration I decided to use the images I had seen for inspiration but would revert to my preferred method of using the shapes, colours and the essence of something with a bit of imagination thrown in. I needed to do something to help me get going, even if I would discard it later. I picked a folder of photos from Paris and just quickly flicked through the photos picking a shape from each one and scribbling it in pencil in my sketchbook.... Zebra stripes, road signs, fencing, traffic lights, chevrons, street lights, topiary etc.  Trying to get the lines and shapes in abstract form, not worrying about portraying a "city" as such.
Then I coloured it in a bit and outlined some shapes, then started using my viewfinder and cutting it up into squares: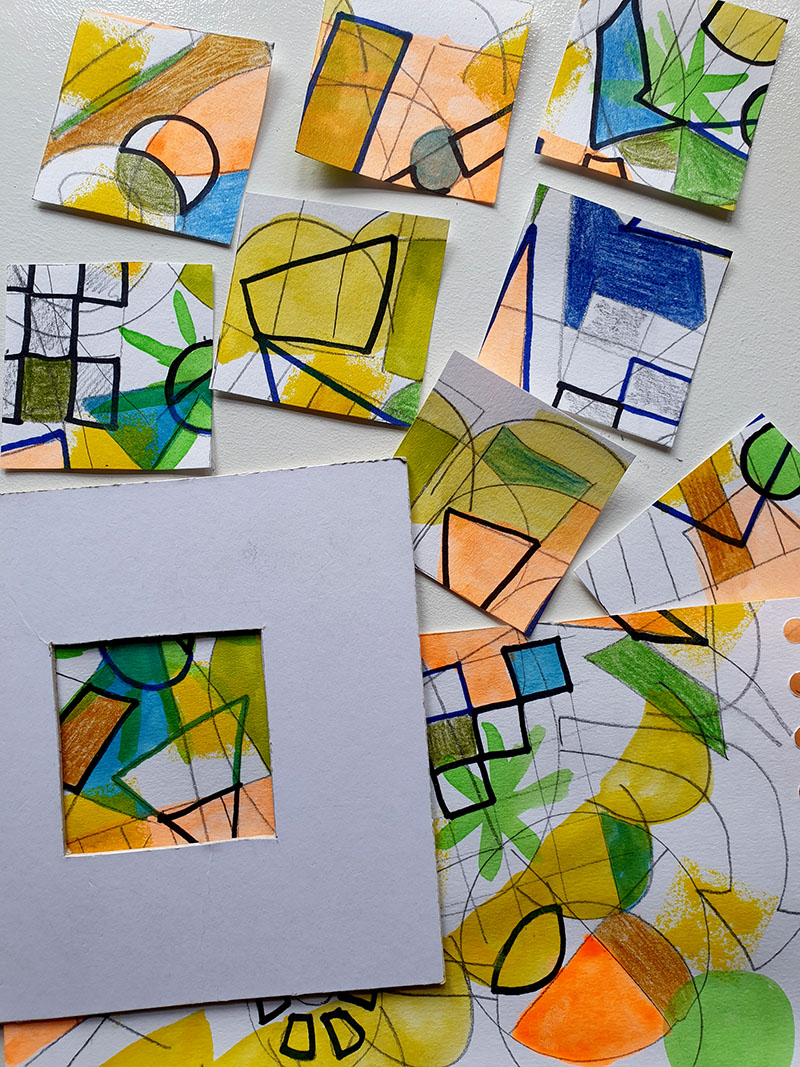 Then I assembled the squares and stuck them on a new page.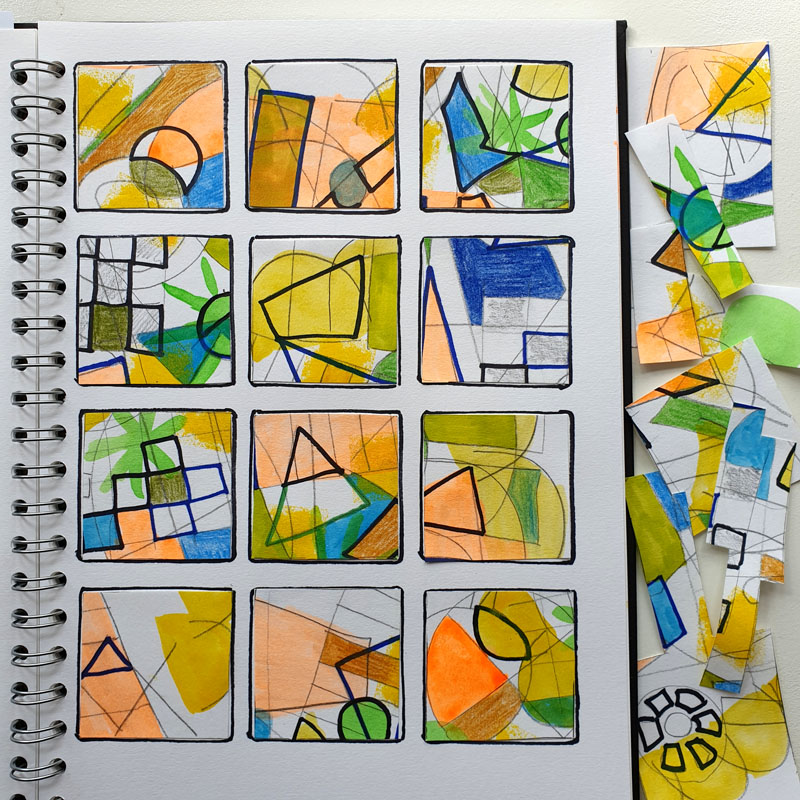 I still wasn't sure where I was going but I liked the idea of having simple colours and motifs in squares so I thought I would head in that direction. I thought a bunch of generic city abstracts would be more fun, and easier if I'm honest.
So next I looked through some of my felt samples to see what sort of techniques and materials would work well that I had used before. I found this sort of collage piece that I thought would work well if I used squares of fabric for various blocky city shapes: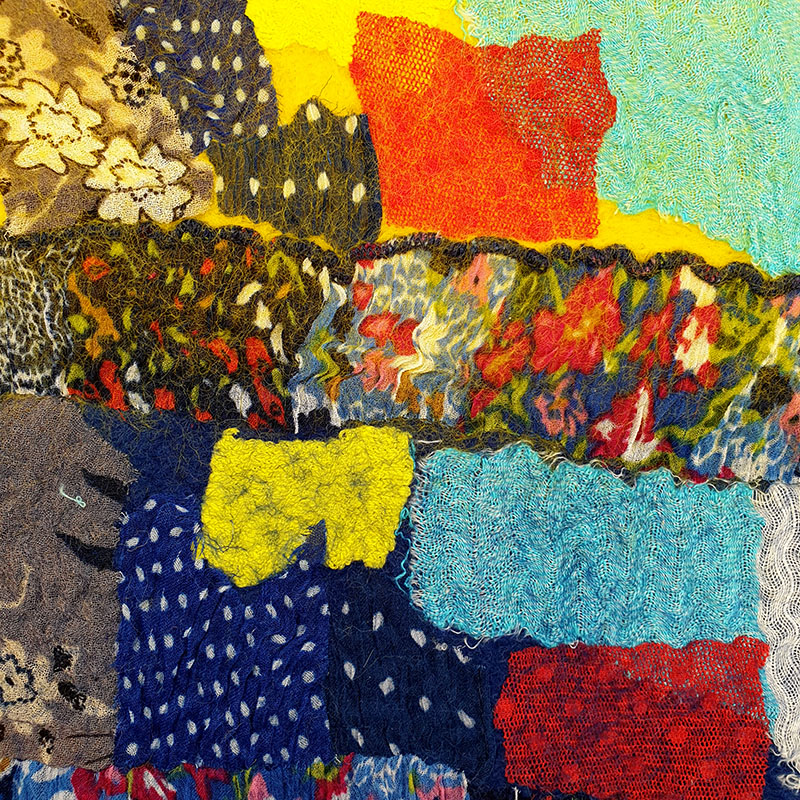 and then this one which I think was supposed to be fields and sky which I turned upside down and could almost pass as a city running along a river,  if I added some stitching...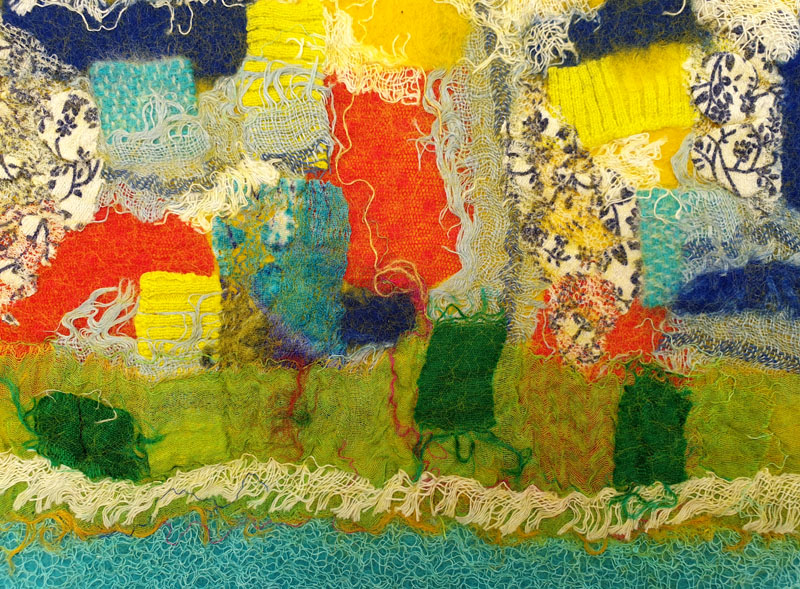 and some ideas for stitching: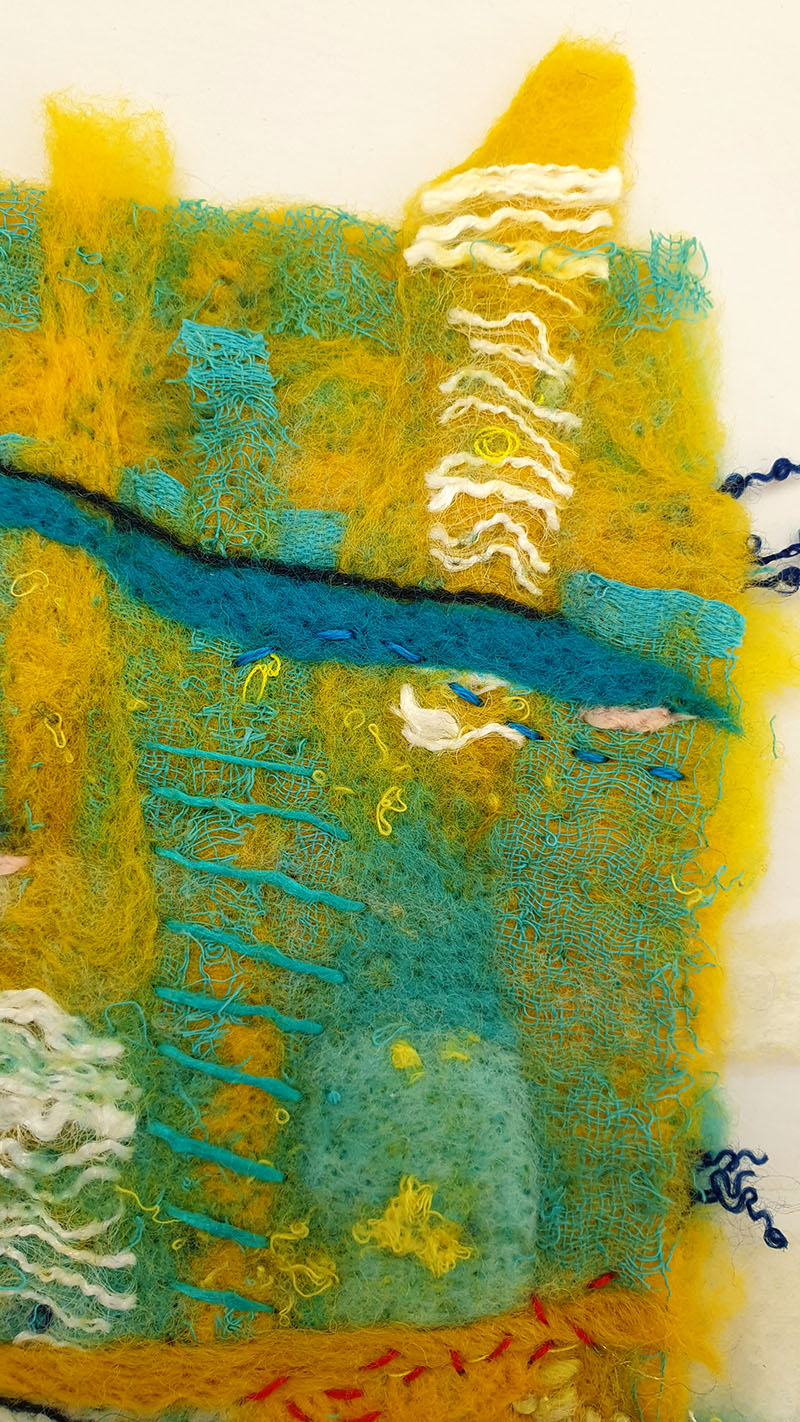 and this one with printed circles on that could work for all sorts of things in cities, maybe a city ferris wheel or road signs or lights.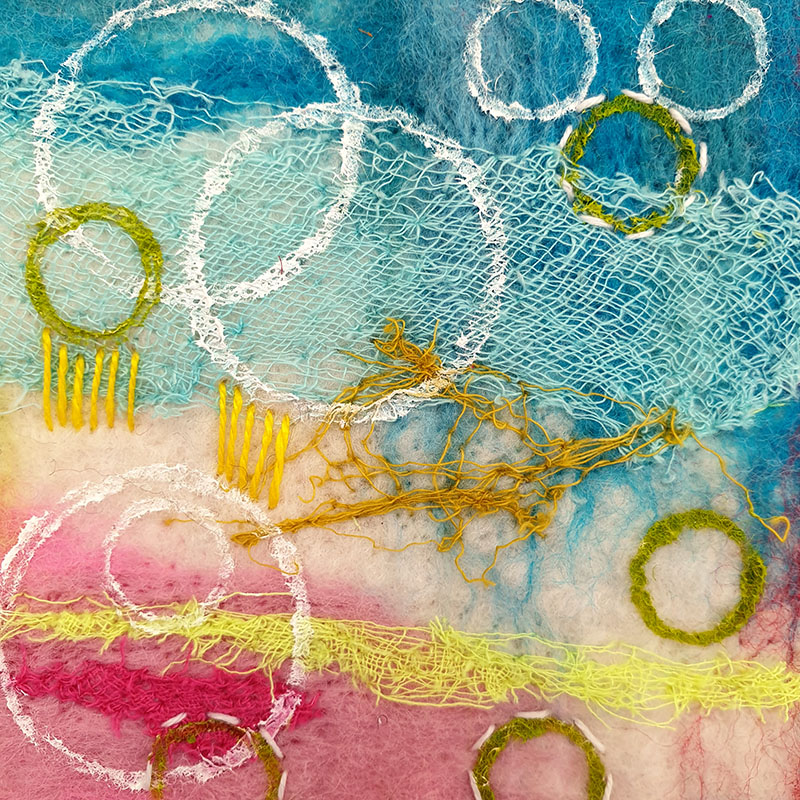 I played about with some more very quick sketching using the Hong Kong photos and decided I still liked the idea of squares and rectangles with motifs and small captures of passages from the city: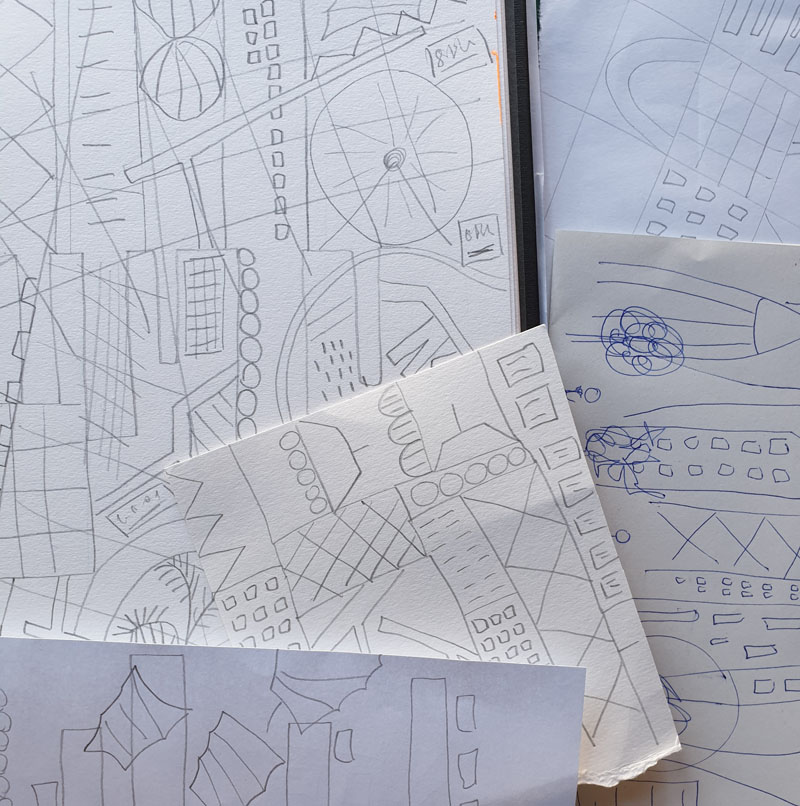 But suddenly! I was looking at more samples I had made previously and found this and caught a curve ball: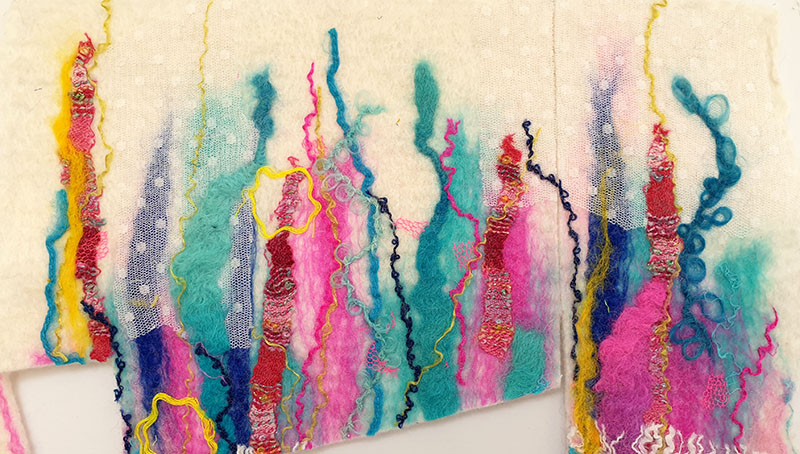 You might think I'm crazy but I decided that it looked a bit like a skyline, only an exciting imaginary one with unrealistic silhouettes and quirky buildings. So for now I've decided that I'm going to stick with pursuing that. It feels like it might be fun, and I can always try something else if it's rubbish!  
I've set up my table with a plan to lay out a piece of felt that is very long compared to it's height, using the above idea as a reference starting point. I can see it in my mind's eye. However, sometimes it works out, sometimes it just doesn't! So I'll give it a go but could end back with the squares and patterns :)  I might do that at some point anyway as I was enjoying the process.
I've dug out some fabrics, odds n ends and my trusty box of scraps:
I've done a couple of free motion embroidery sketches on the sewing machine to get a feel for how the stitching that will embellish the felt might look. I decided to do what I know and treated it like a row of flowers only in sort of building shapes! I used one continuous line of stitch and went fast. Then I went back to the start and did another continuous line over the first adding extra shapes.  So I think it looks city-ish but abstract and a bit quirky.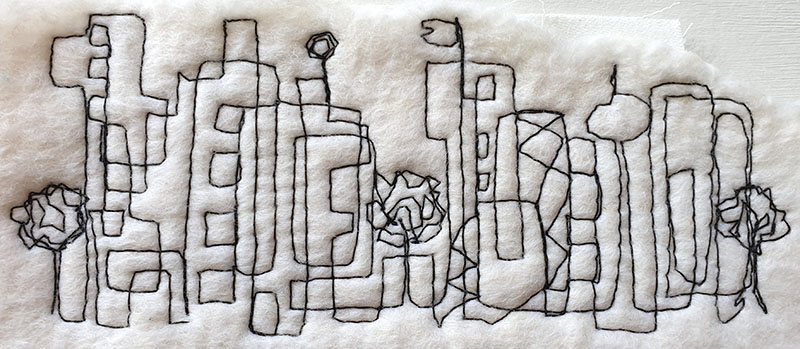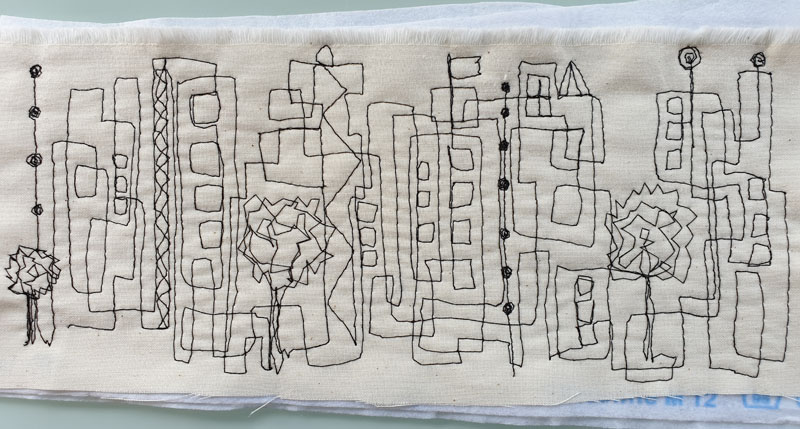 So far I've quite literally been around the houses (and various other buildings!) to come up with a plan, but hopefully I'm getting somewhere!