Annie
Following on from the previous post...My first idea for a seasonal project for the Christmas decoration challenge had been to make a wreath of holly leaves.  It didn't work out as planned but I thought I'd share the felt I made because I rather like it!  The wreath idea was inspired by my Christmas Podding project that I made a few years back. I really liked the wired felt holly leaves and I thought it would be fun to make a big bunch of them to create a wreath.  All of the leaves would be wired and then twisted into shape.  I wanted to make the leaves with a base of green but with lots of other more unusual colours throughout to make it a bit quirky.  I could picture it in my minds eye so I picked some colours in Merino, starting with greens then added pink and turquoise etc.  I also added some bits n bobs like white cotton nepps (possibly to be frost / snow?), and some other types of wool for a bit of texture: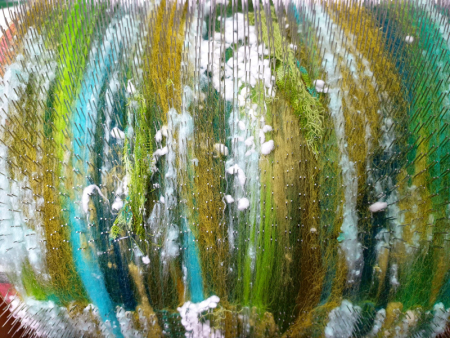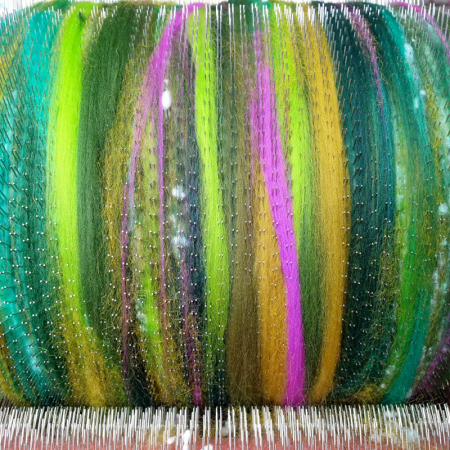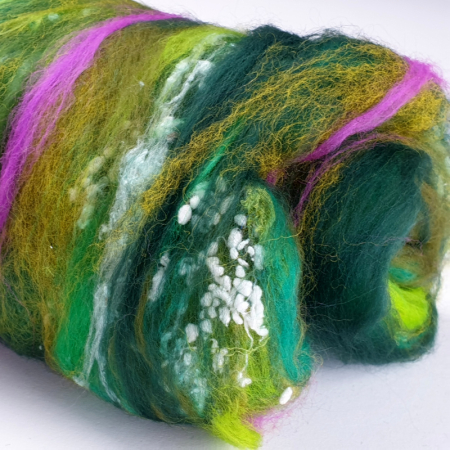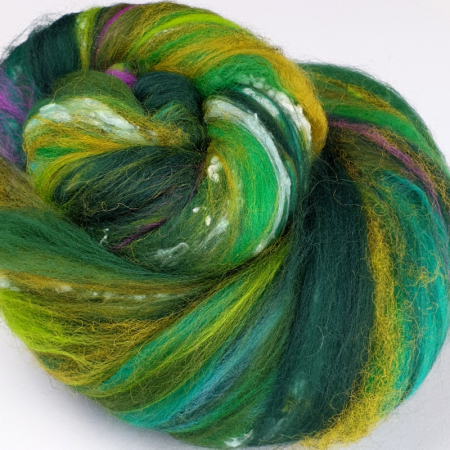 Once I'd laid the fibres out I added some fabric pieces and yarns and it was looking pretty good for what I wanted: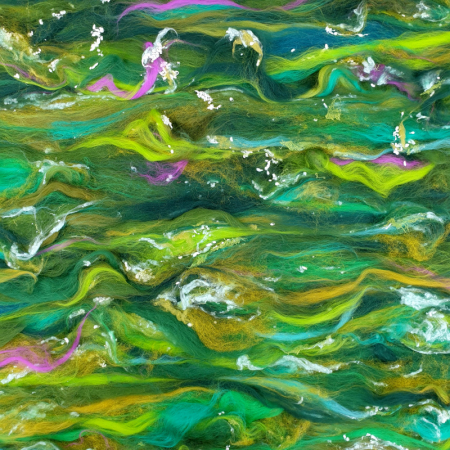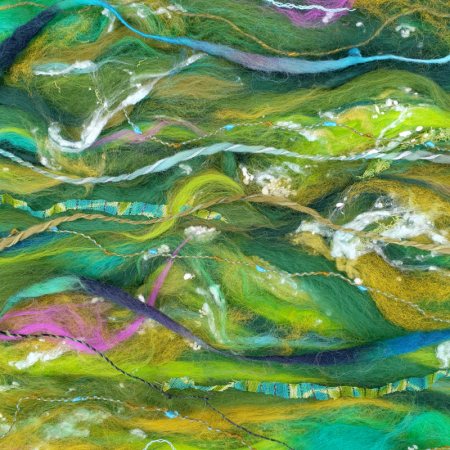 However, after felting I realised that maybe I had used more dark green than I needed, and not enough of the other colours, so while I really liked the felt it wasn't what I wanted for the leaves that I had imagined.  I cut one leaf out but changed my mind.  This is the piece of felt: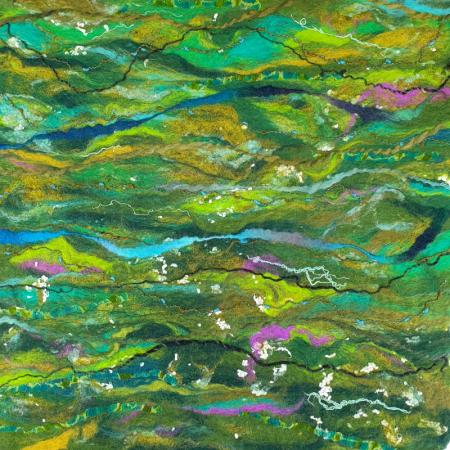 It might not be what I had planned exactly but it's a great piece of felt with lots of interesting sections.  That's the fab thing about a big piece of decorative felt is that often when cropped into smaller pieces new images appear.  There are some really lovely passages in this felt, which to me resemble the countryside landscape.  I love to visit Yorkshire when I can and some of these remind me of the hills, streams, sheep, rocks etc.  Can you see abstract landscapes in these pieces or is it just me?!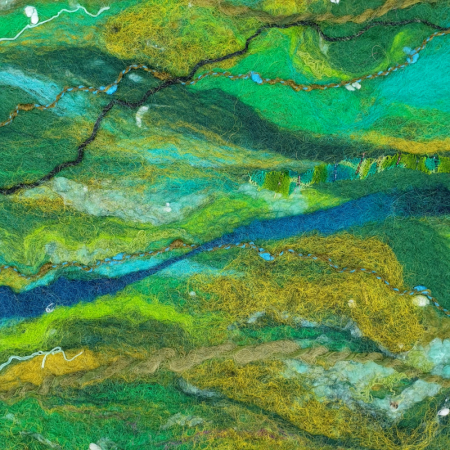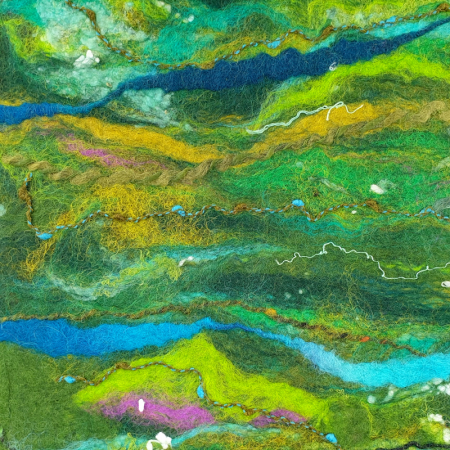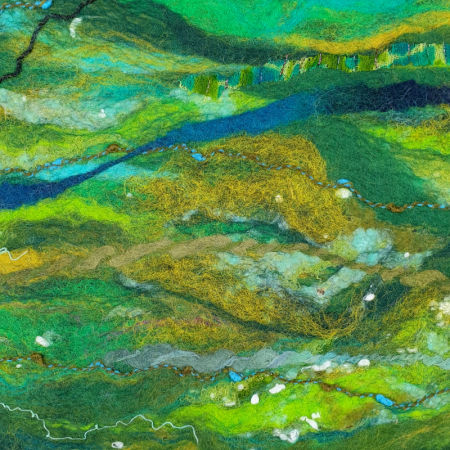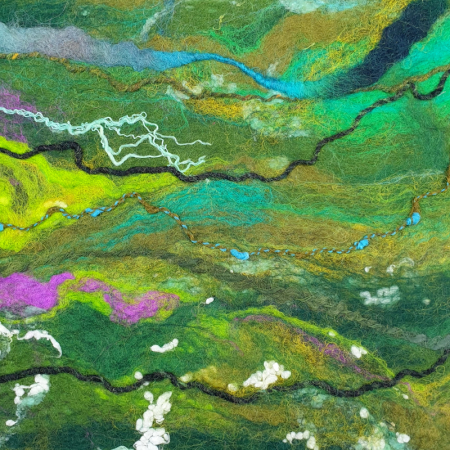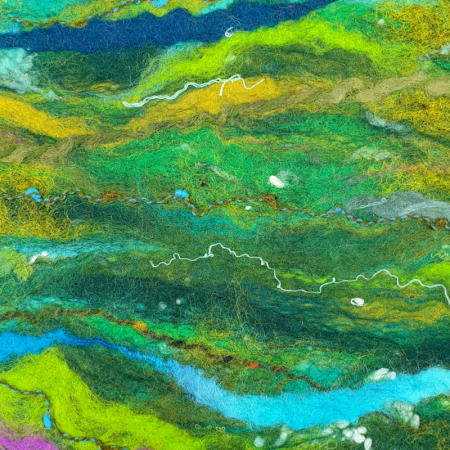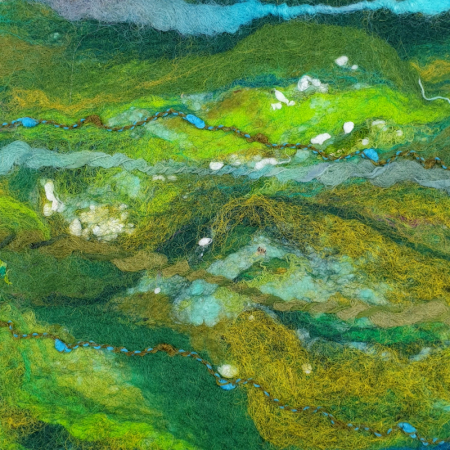 I did end up making some more holly leaves in the end from new pieces of felt that I made from blue, pink and yellow Merino fibres, with the addition of various fabrics and yarns.  I made a wreath from them but didn't have time to wire them and go over the top with it.  I'll add that to the project list for next year!  Here are the leaves, I'll post about the wreath later, as my posts get way too long!