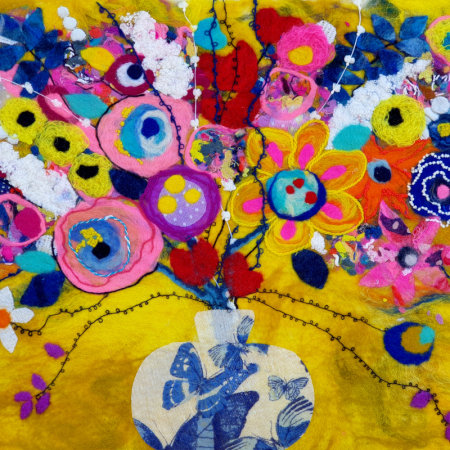 Wet Felted Vase Of Flowers
Annie
I recently made this picture to take part in the 'first quarter challenge' over on the Fibre and Felting Forum.  I'm a little late posting this as it's nearly the end of the second quarter, but who's counting?! :)
The subject was 1900-1910. It turns out there was so much interesting stuff happening around that time that after a session of internet searching, I felt slightly overwhelmed by choice, so I returned to my old favourite of big bunches of colourful flowers after discovering the paintings of Odilon Redon.
I printed out some pics of his paintings for inspiration and I referred to the photos but didn't try to copy them - I just picked out colours and shapes and then added my own, organising them into a new arrangement. That's the good thing about flowers - anything goes!
This is how it started (after I'd laid down all sorts of things and ripped them back off because I didn't like them, this made a good starting point!), and I didn't really know where I was going with it. I had planned to lay out several samples and test pieces for ideas first but ended up getting carried away and covered the whole yellow base with one design instead.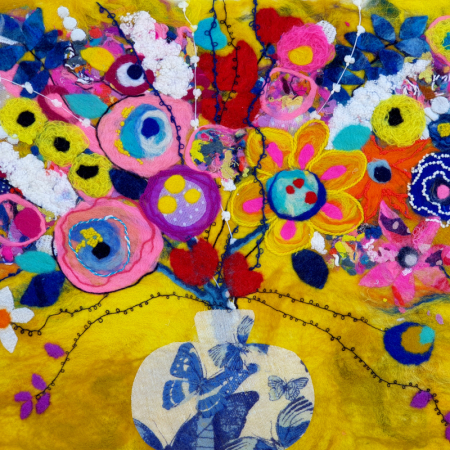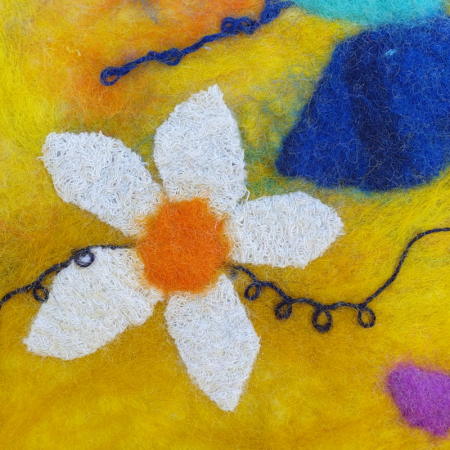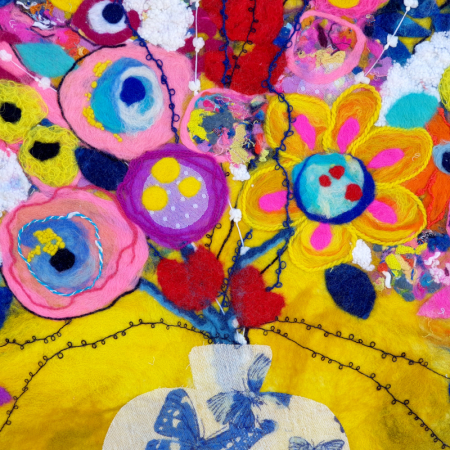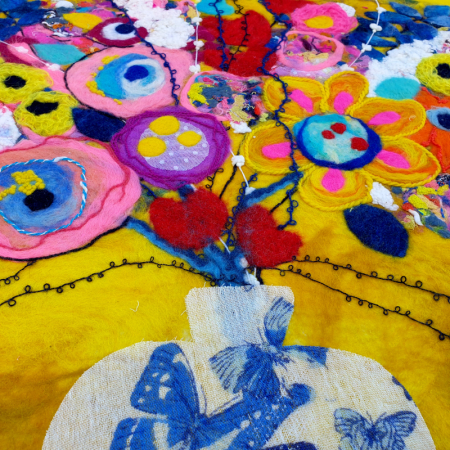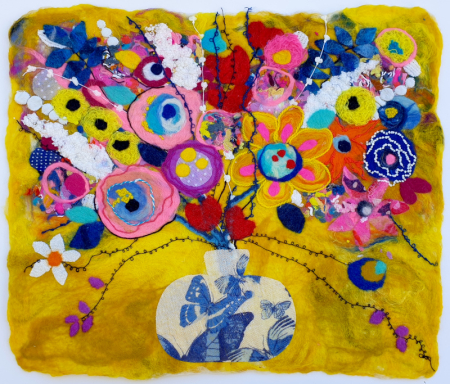 The vase was attached separately (using iron-on Vilene) after felting because it was very flimsy fabric and I thought too much yellow fibre would show through if I just felted it on.
The finished thing is an odd size at 50cm x 60cm, but it'll do.
It felted really well but I haven't overworked it to keep the colours bright. I'll leave it a bit longer before deciding whether to do more to to it with stitching or paint... or the scissors!
I do like to experiment, but I like this one just as it is too, so will need to ponder for a bit. Meantime it can sit on my wall and give out happy vibes :)  I really enjoyed making this picture. It's very cheerful and was a lot of fun :)